Let's be clear, I am in no way pretending that this is going to taste like spaghetti or any type of pasta for that matter,  and I wasn't intending on creating a substitute when making this recipe.  If anything this dish would fall more appropriately into the salad category.
You can serve this as a light summer meal on it's own or it can be a lovely side dish to grilled seafood, fish or chicken.
Either way it is delicious and very versatile in terms of what ingredients you can add in or serve with.  I made this with a red pesto because I went on a green pesto binge last summer and got a bit tired of it.  But if you prefer green pesto by all means try it with my Basil Pistachio Pesto.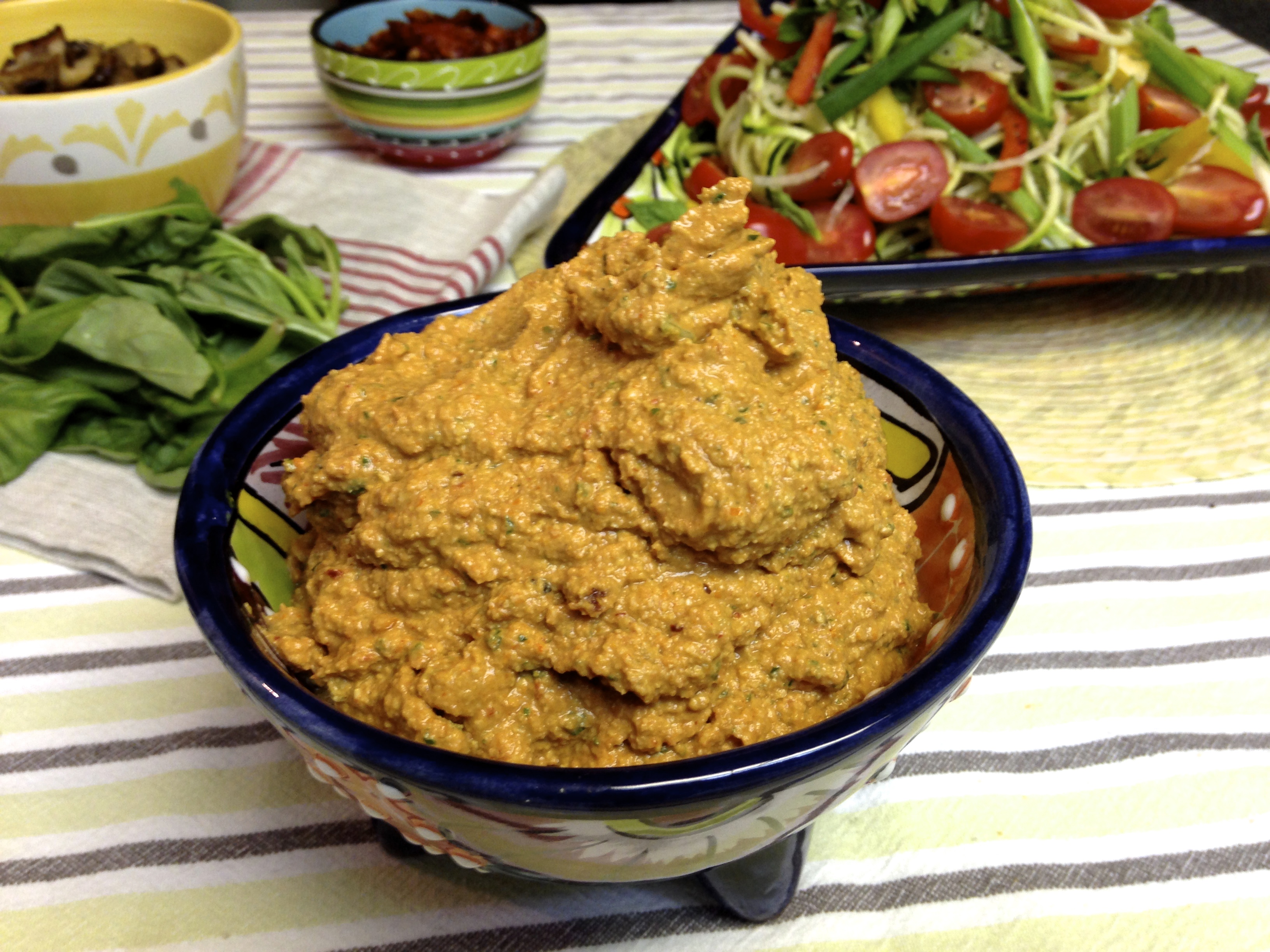 You might realize after making this recipe that you have quite a bit of pesto left.  That's perfect!   It keeps well in the fridge for at least 4 or 5 days and tastes superb in omelettes.  Also amazing in actual noodles if you eat real pasta.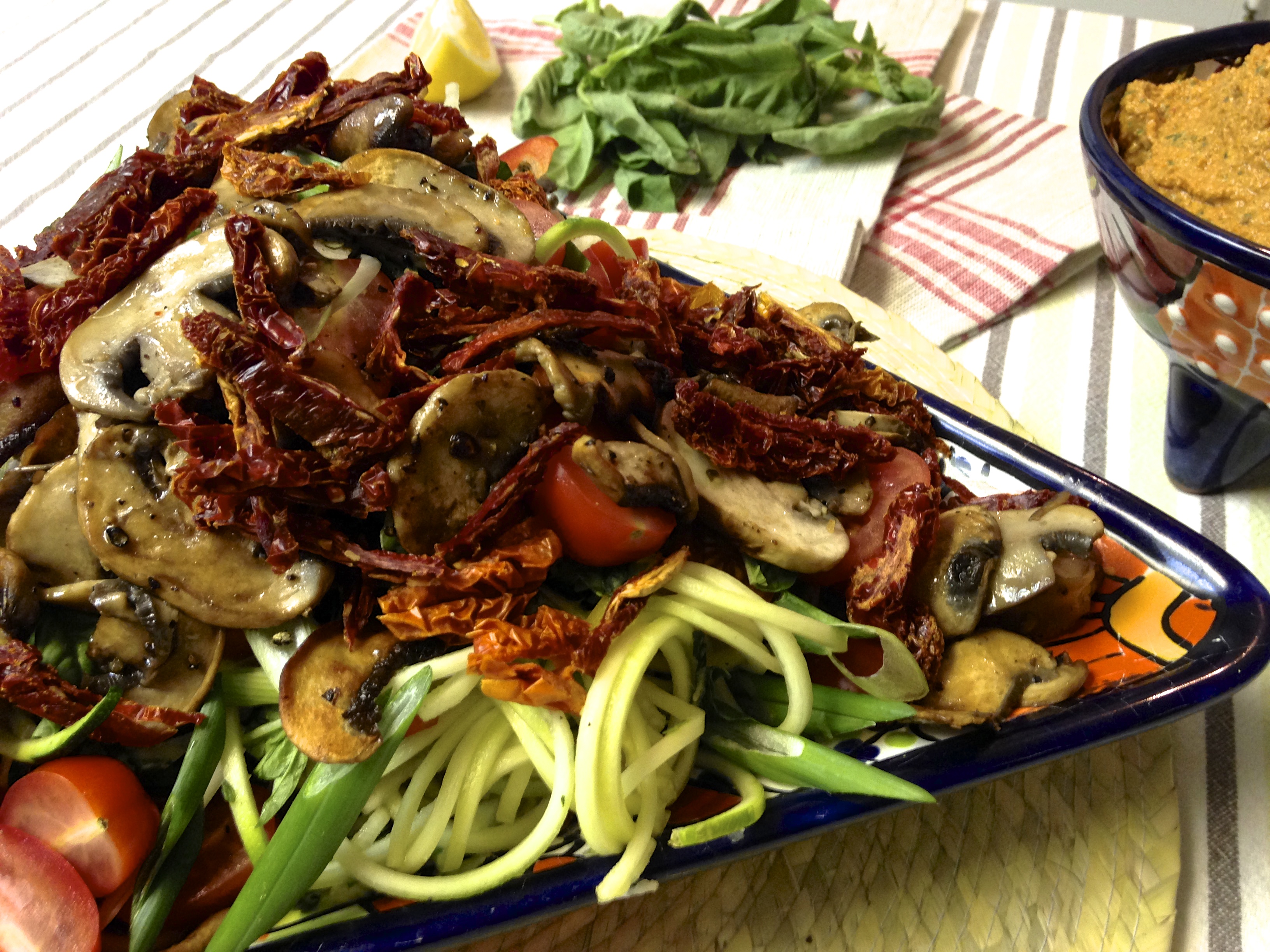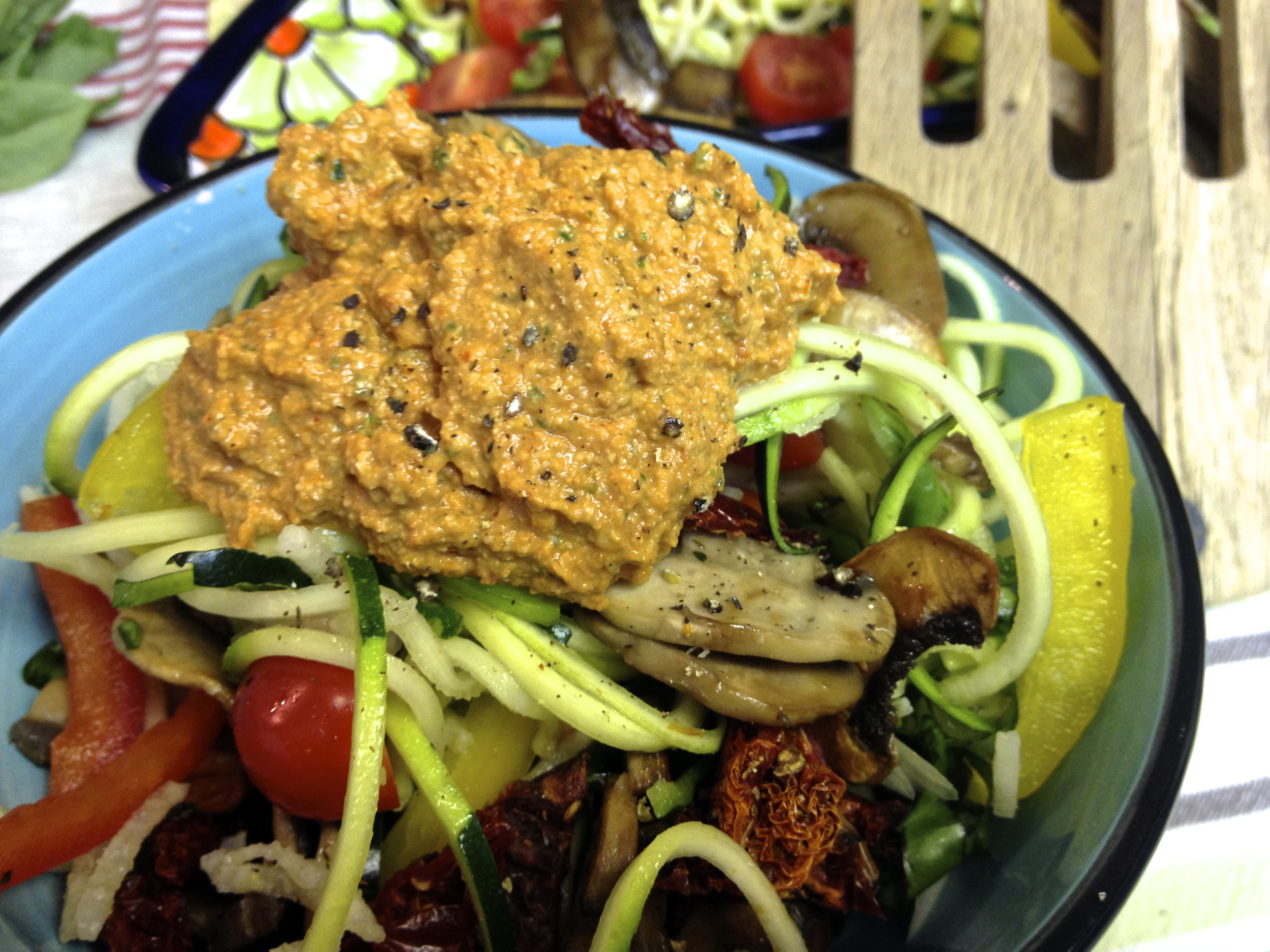 Please follow and like us:
Begin by soaking your nuts for a minimum of 2 hours or overnight. This process helps release the phytic acid present in nuts and makes them easier to digest and assimilate. Plus it will make them blend into a creamier texture.

Place all ingredients into a good quality food processor, about 2 or 3 ingredients at a time, until the pesto is smooth and uniform. You can add water if you need the pesto to be a bit more runny, one tablespoon at a time. Set aside.
Begin by heating 2 tablespoons of olive oil on medium high heat into a large frying pan. Throw mushrooms in and saute for about 10-12 minutes, season with salt and pepper and cook until mushrooms are nicely browned.

Using a spiralizer if you have one (I strongly recommend you get one, you will use it for so many recipes in the summer), make your zucchini noodles. If you don't have one you can use a potato peeler and peel the zucchini lengthwise to make your 'noodles'.

Place the zucchini noodles in a large serving bowl, tossing first with lemon juice, then garnishing with the rest of your ingredients. Mix together gently using salad thongs and serve in individual bowls topped with the pesto and a drizzle of olive oil.