I really wish I had an exciting story to tell about this salad but the truth is,  this is a pretty classic Tuna Nicoise.  I did make a few changes but the essence of the traditional French salad remained 😉  I used asparagus instead of French green beans, just cause they were in season and I thought it would be a nice change.  Annnd I didn't make this with potatoes as most recipes do.  And frankly I didn't miss them.   But next time I'd be curious to try it with roasted sweet potatoes or maybe even some crispy home-made shoe-string fries.  Always room for experiments I guess.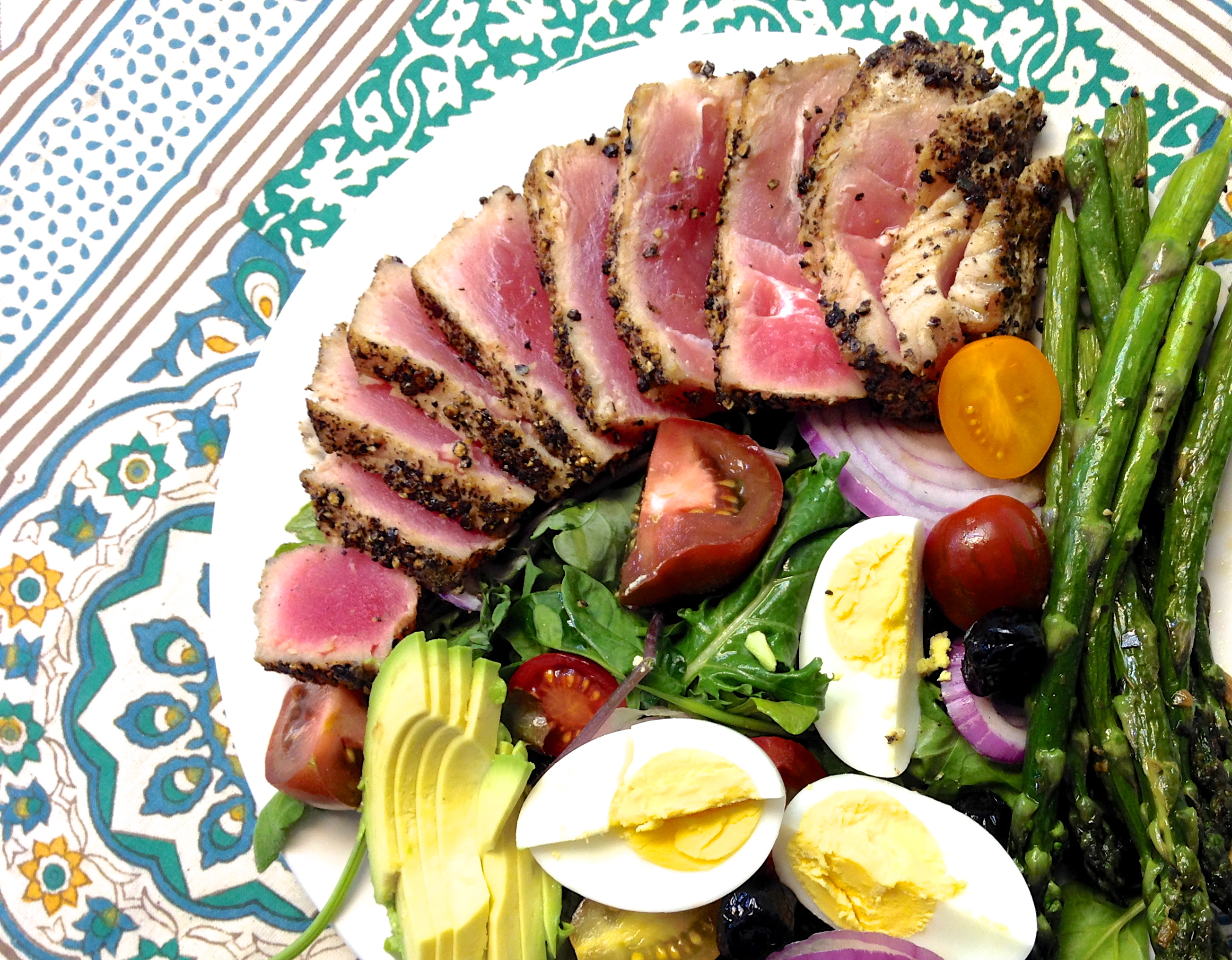 Ok now can we just take a moment to take a look at this beautiful tuna?!
I mean really it doesn't get much better than this.  I had a hard time not eating this thing raw while cutting the veggies.  Ok I just had a tiny piece.  So tender.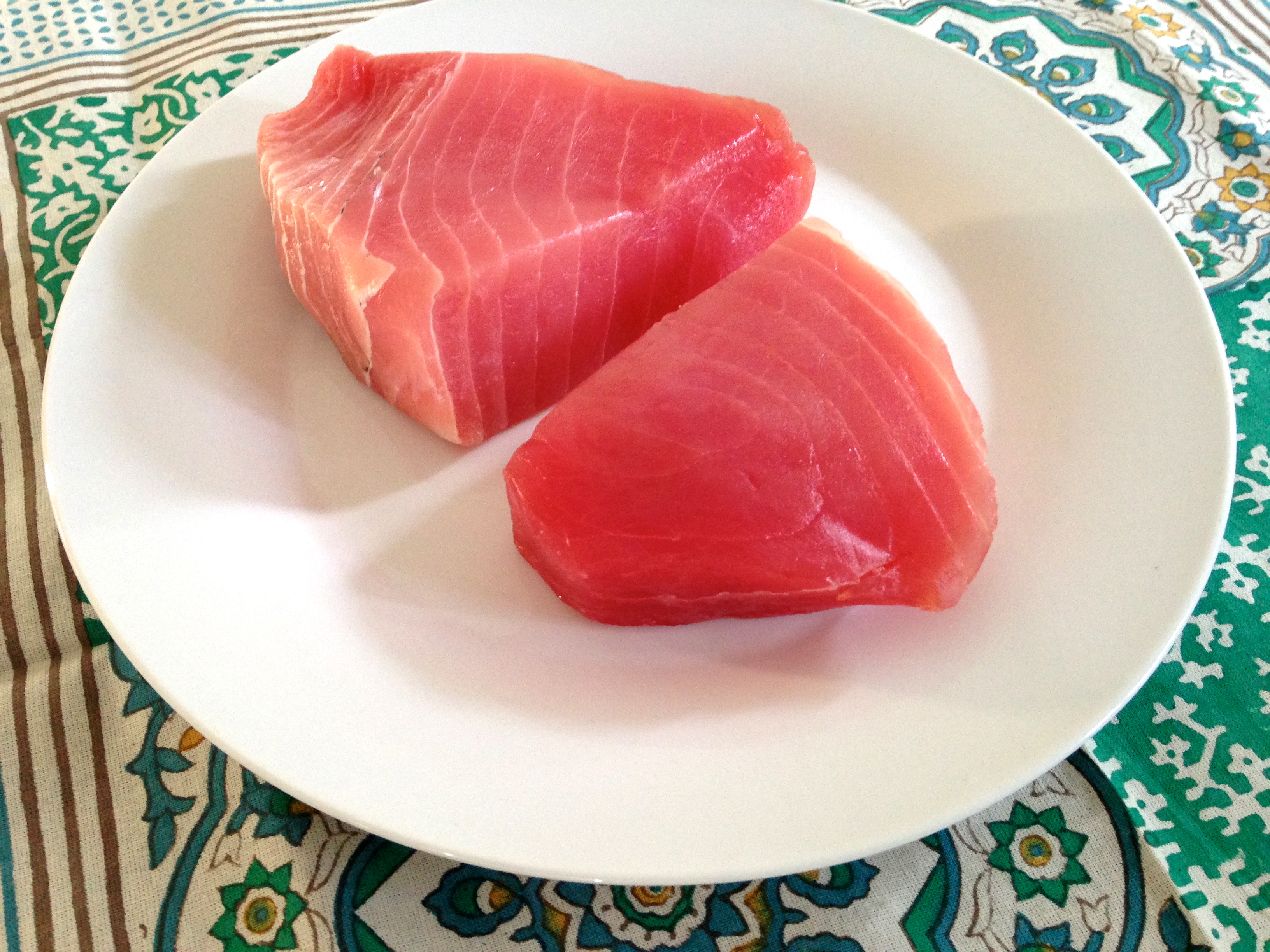 Oh and also I would like to mention that I know how to spell Nicoise properly but my keyboard doesn't speak French.  .  I just had to point that out.  I know my French.   However I am not a computer expert, not even close..  Actually it's a small miracle I can operate this website by myself.  So if you ever considered starting a blog but feel intimidated, don't be.  If I can do it anyone can.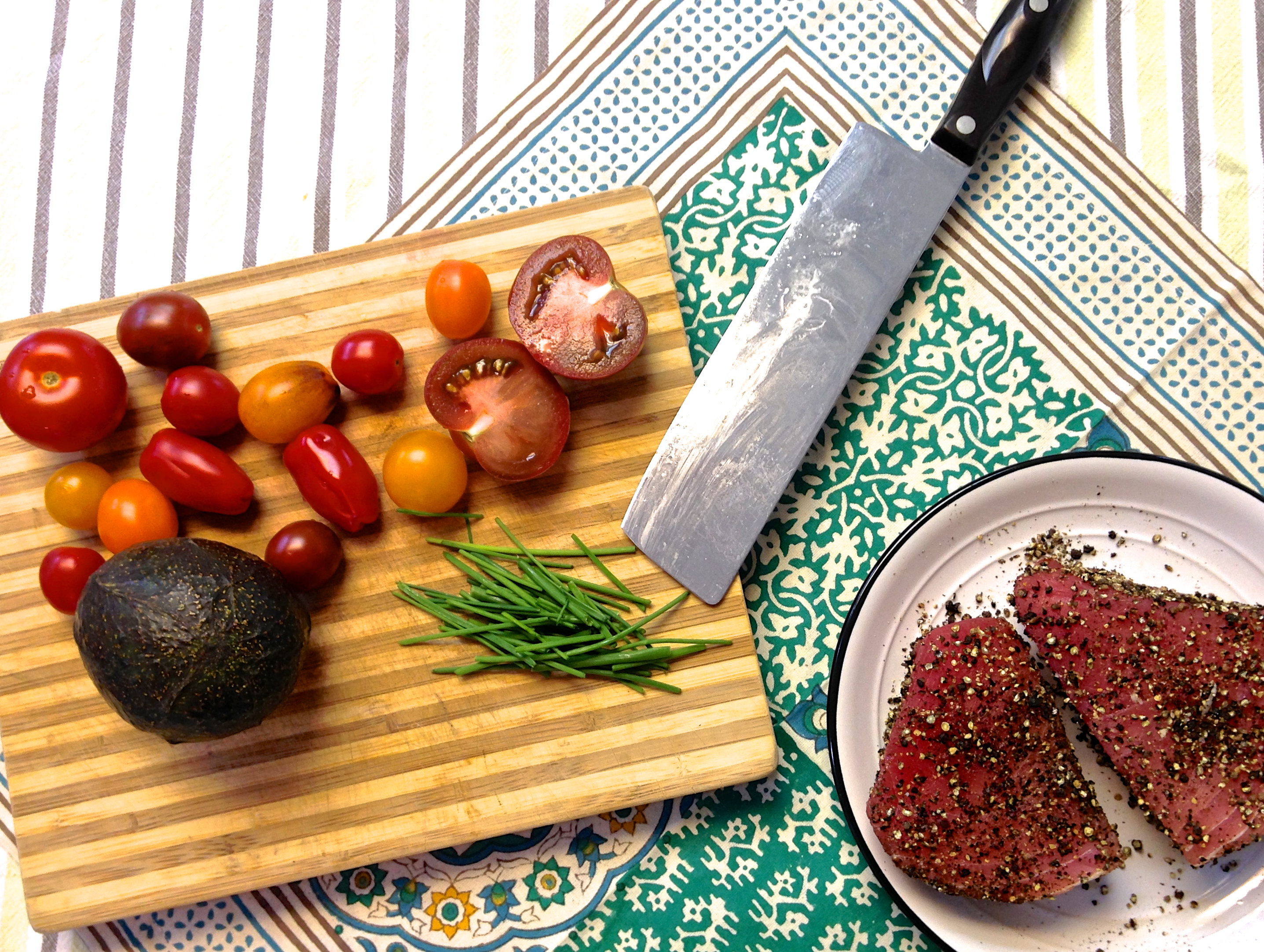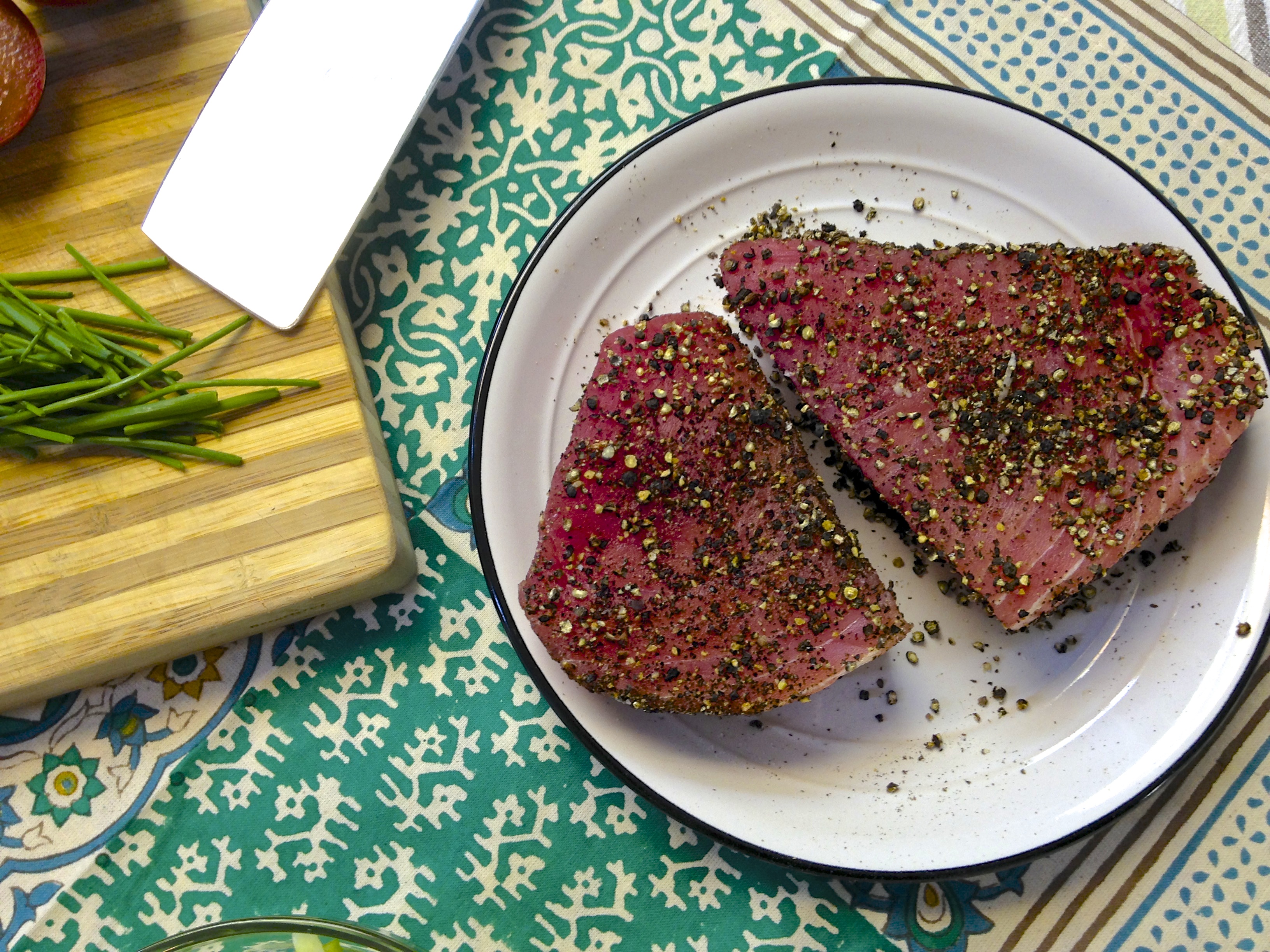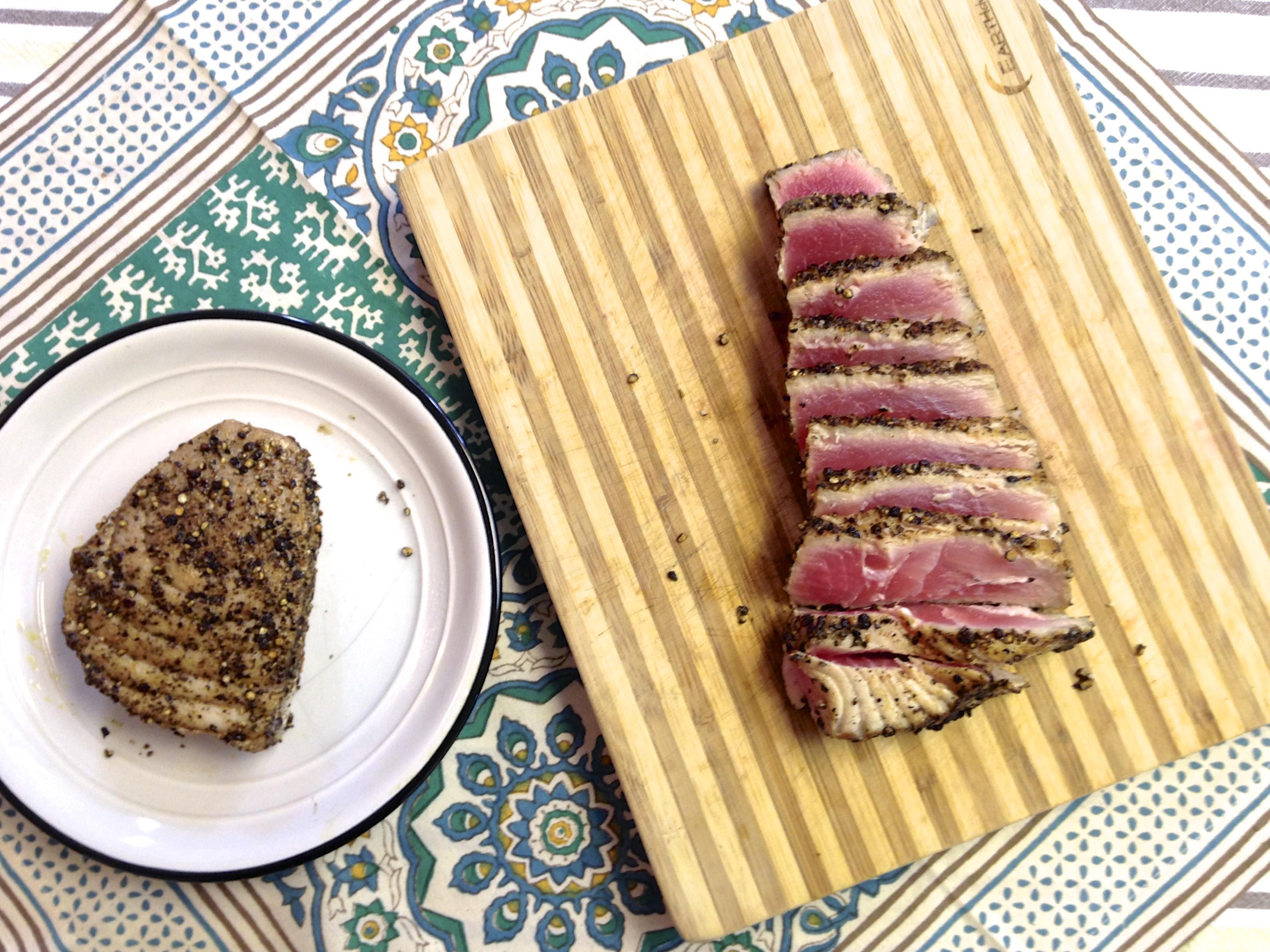 Please follow and like us:
Sprinkle both sides of the tuna steaks with salt and pepper. Heat up olive oil in a large pan over medium-high heat. Place tuna steaks ( you can do this one steak at a time) in pan and allow to sear for about 1 minute, or until cooked through about 1/4 inch. Flip steaks over and sear the other side for 1 minute. Using thongs, hold the steaks upright to sear the sides for 1 minute on each surface.

Allow steaks to cool down and slice into nice thick pieces. Set aside.
Whisk all vinaigrette ingredients together into a bowl.
Begin by boiling water in a pot for your eggs. Place eggs into boiling water and lower heat to medium. Cover and simmer for about 12 minutes, then run under cold water. Crack open and slice. Set aside.

In the meantime, heat 1 tbsp of olive oil in a large frying pan to fry your asparagus. Season with tarragon, sea salt and lemon zest. Leave on for about 5 minutes on medium heat or until tender but still crispy. Set aside.

Arrange the mixed greens on serving plates along with sliced tomatoes, onions, avocados and eggs. Place sliced ahi tuna steaks and grilled asparagus on salad. Garnish with olives and fresh chives. Drizzle with vinaigrette.