Oh fish tacos, how I love you guys.   I don't have a massive story to tell about these, actually I may not have a story at all.  I made the mayo, made the salsa, ate half of the salsa before dinner, made guacamole, munched on that too, and by the time we sat down for dinner, I was full.  This happens a lot.  Especially when I spend a fair amount of time prepping while hungry.  But I did eat my tacos anyways, ohhh yeah!
Can we just take a moment to admire the beautiful colors in this dish, I mean come on, who needs corn tortillas when there's purple cabbage?! If you've never tried tacos in a cabbage leaf, I strongly encourage you to give it a shot, it won't disappoint, I promise!
The second thing you may notice about this whole picture is the strawberries. Strawberries with fish tacos, what??? See this is the beauty of cooking seasonally. I made these tacos in August last year so I happened to have these beautiful local organic strawberries on hand, and thought; why not make a salsa! I also had some kohlrabi (also in season at the time), which is kind of the Canadian version of jicama. I diced it up and mixed it with the strawberries, some lime juice, jalapeno, cilantro, bam, you've got yourself some strawberry-kohlrabi salsa!
One more lovely addition to this dish which doesn't show on the picture was the chipotle mayo. Totally optional but I've included the recipe if you feel like it. Click here for Chipotle Mayo recipe.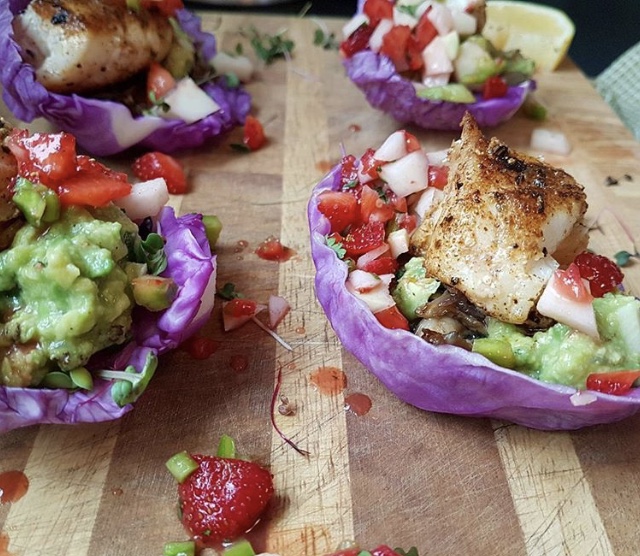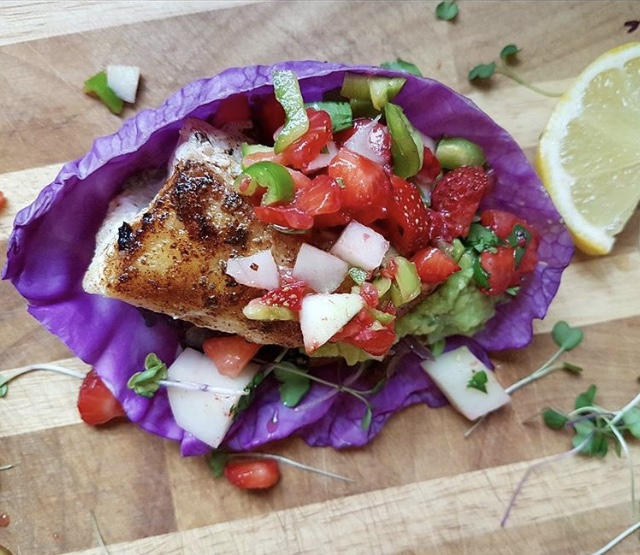 Please follow and like us:
Strawberry & Kohlrabi Salsa
If making the chipotle mayo, click on link in post above.
In a medium bowl, mix the all the salsa ingredients and set aside.
Mix all spices together in a small bowl and set aside. Heat up a pan over medium heat with coconut oil.

Cut fish into small, even sections or cubes and toss into the spice mixture. Cook for about 4 minutes and toss to cook on the other side, until the fish is nicely blackened and cooked through, this shouldn't take too long, so keep an eye on your fish, you don't want to overcook it.
Place guac at the bottom of cabbage leaf, top with fish and salsa. Garnish with lots of fresh cilantro. Stuff your face.