It's not to early to post Christmas treat recipes right?
Nah, I didn't think so either.  And who says you have to wait till Christmas to eat them.
Probably one of the easiest recipes I have on the blog, and has the added bonus of being delicious and nutritious.  This scrumptious coconut almond bark will satisfy any sweet tooth, even though technically it doesn't even have any sugar added.  Rich, crunchy, slightly salty, toasty, with just enough sweetness from the gojis to make you happy.  Plus coconuts and almonds are loooaaaded with fibre and minerals so this treat will fill you right up after only one little square!  The gojis are a nice addition for color but if you want to keep the sugar content low feel free to substitute for almonds!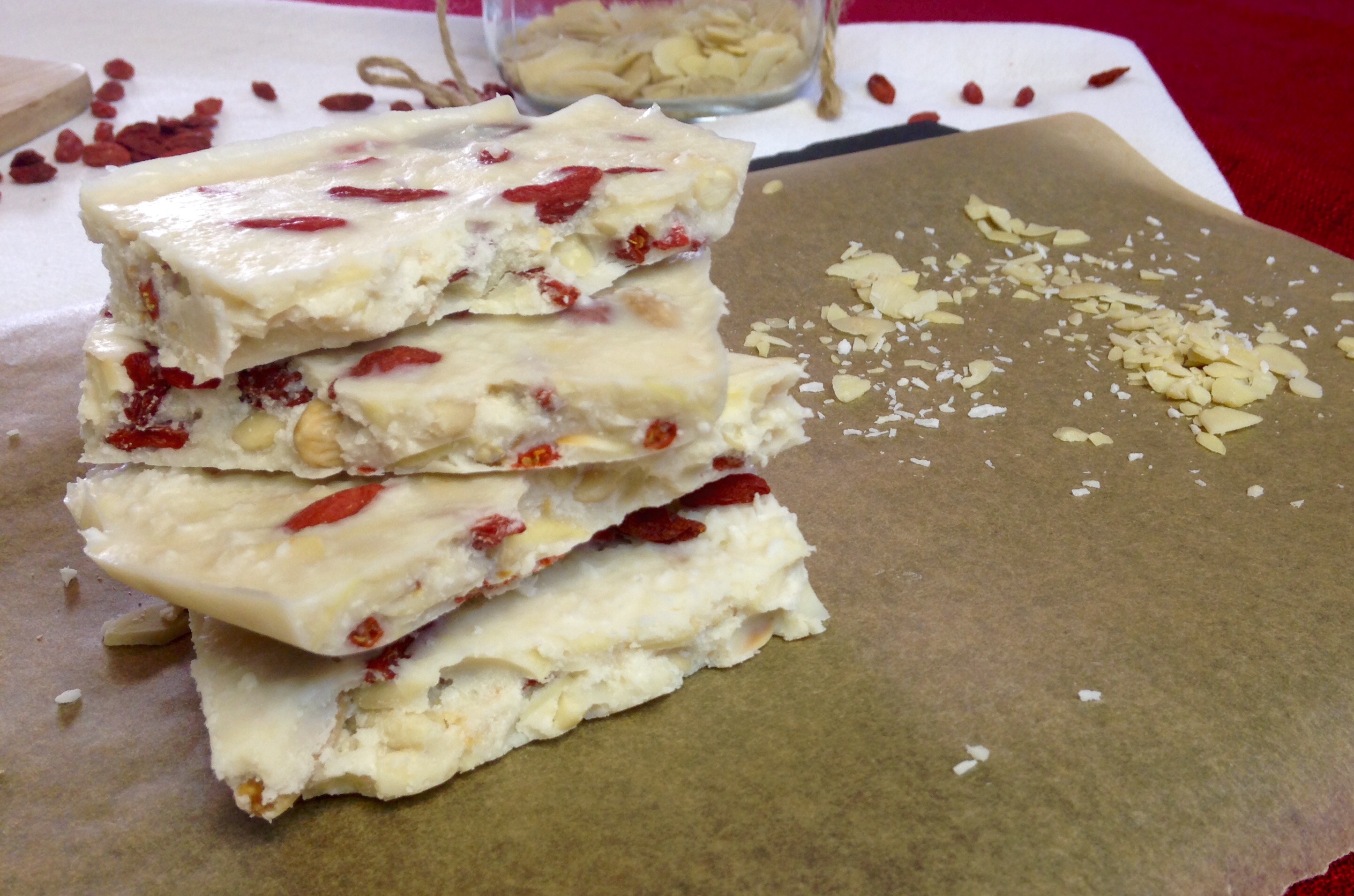 Please follow and like us:
Place coconut boiler and 1/4 cup of the coconut oil in a double boiler, mixing from time to time, until it is fully melted and completely smooth.

In the meantime, you can melt your remaining 1 tbsp of coconut oil on medium heat and toast your nuts in a frying pan. Be careful to stir them and lower the heat if necessary, you want them slightly golden, not burnt!

Once your nuts are toasted and butter is melted, blend together, also adding half a cup of your shredded coconut, your goji berries, a few sprinkles of Himalayan sea salt and vanilla.

Line an 8x10 baking dish or shallow dish with parchment paper, and pour bark mixture in, spreading as evenly as possible either with a spatula or simply by shaking your dish from side to side.

Garnish with remaining coconut shreds and gojis. Place in the freezer for about 15 minutes or until it sets.

Remove by lifting edges of parchment paper and place on a cutting board. You can either use a sharp knife or break apart with your hands. Enjoy!
**You can use any nuts or dried fruits of your choice, or even omit the fruit altogether if you are trying to go low-carb.