This recipe was inspired by one of the most amazing salads I have ever had (in a restaurant).  The place is called Olive & Gourmando, and is located downtown Montreal, near McGill University if I remember correctly, but don't quote me on this.  I try to make a point of visiting "La Belle Province" at least once every couple years, for one to see my family, but also to reconnect with my culture and most importantly, to eat.  It is no secret that French people like their food and let me tell you French-Canadians are no exception.
So it's lunch time, neither myself or my parents feel like cooking.  They have been talking to me about this cute little restaurant with the best soups & salads pretty much since I arrived in Montreal.  So we arrive, and like most amazing restaurants or cafes in Montreal, it's a totally unassuming little joint, but it is jam-packed.  I shortly figured out why — everything on their menu is amazing!  Their food is made from scratch and their Chef puts together the most delicious and creative recipes.  My parents and I shared a couple different items including one of the best soups I have ever had, a sandwich to die for, and a weird but interesting looking salad.  The salad is called the #24.  Wow.
After my return to British-Columbia I swear I couldn't stop thinking about that salad.  It was haunting me.  Shortly after this, my parents sent me a link to a Recipe App called "Deep Dish".   Best day of my life. Well not quite but I was stoked.  Diane Salomon, the Chef at Olive & Gourmando, was revealing 10 of her best recipes, including, you guessed it, the infamous salad I had been dreaming about for weeks.
So, as with any other recipe I fall in love with, I like to try to play around with it and make it my own.  The only thing I didn't really modify that much is the dressing, I thought it was pretty delicious the way it was so I only tweaked it a little bit.  I did take a few ingredients off the list though as their salad uses tofu and rice noodles which aren't typically a part of my eating regimen.  Instead I used a spiralizer and made "noodles" out of yellow beets and jicama, and made a delicious chicken satay to replace the tofu.
This recipe is not 100% Paleo because of it's use of peanuts and soy sauce.  If this is a concern for you just substitute with almond butter and coconut aminos.  I tried it and there is barely any difference in taste.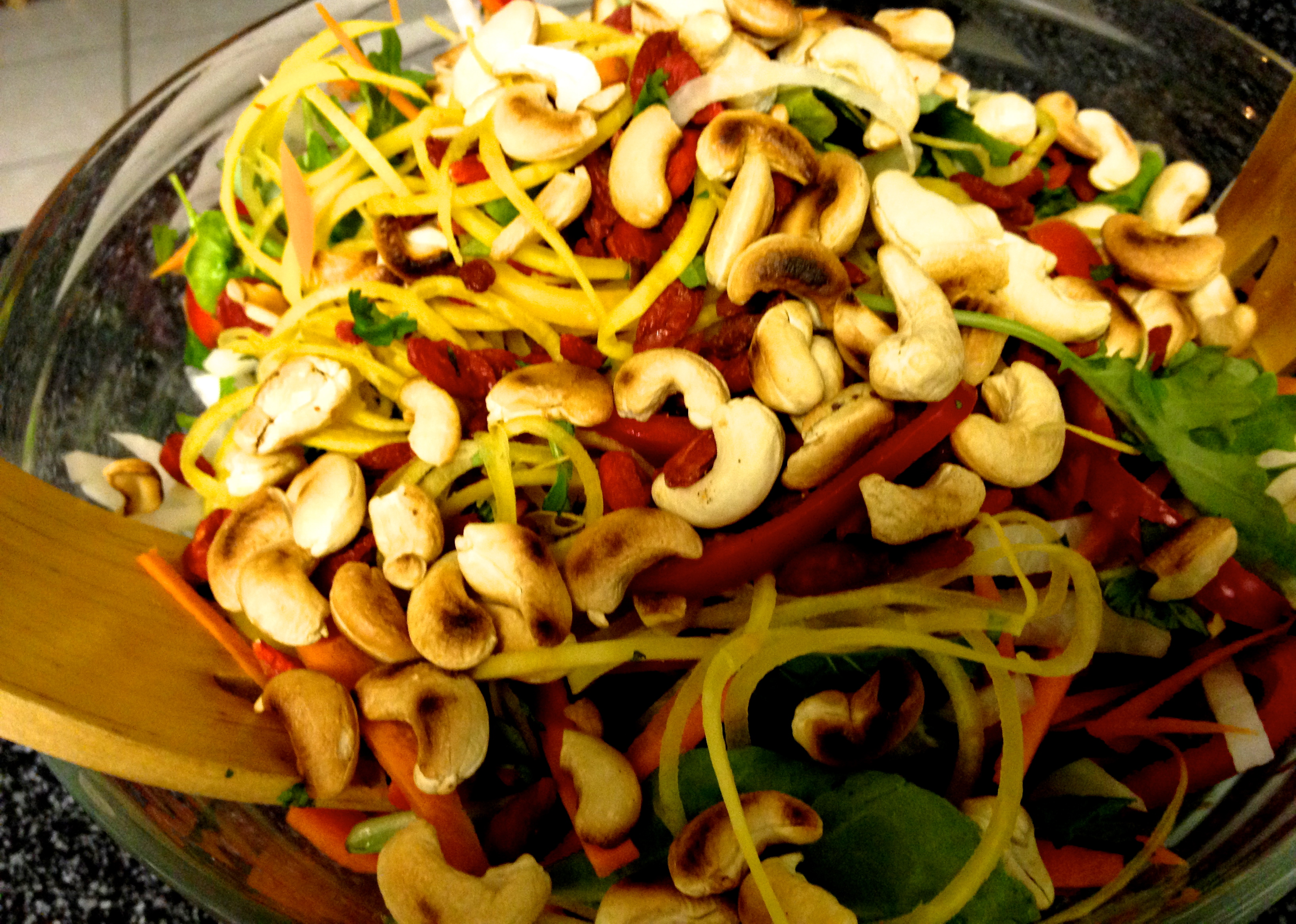 Please follow and like us:
Start by heating up sesame oil in a small frying pan on medium heat. When oil is hot add diced shallots and saute for about 20-25 minutes or until nice and crispy (but not burnt). Once cooked, lay on paper towel and squeeze to remove excess oil. Set aside and let cool down a bit.

In a separate frying pan, on medium-low heat, roast your cashews. Should take about 10 minutes. Be careful that the temperature is not too high as they will burn quickly. You want them only slightly roasted, a nice golden colour.

Toss baby arugula into a large salad bowl, add fresh mint and fresh cilantro and mix together.

With a spiralizer, make beets noodle and lay on top of greens in the salad bowl. If you don't own a spiralizer, shredded beets work just as well.

Add sliced peppers, julienne carrots and jicama to bowl, placing them around the julienned beets.

Add goji berries and roasted cashews on top of the beets.

Finish the assembly by placing the fried shallots and mandarin segments in a circle on the outside of the beet mixture.
Cut chicken into cubes as evenly as possible to avoid getting some pieces under/overcooked.

Toss chicken pieces with Satay Sauce into a bowl and refrigerate for at least 2 hours or overnight. This will make the chicken extra tasty and tender.

After it is done marinating, put meat onto (4 large or 8 small) skewers.

In a frying pan big enough to fit all your skewers, heat up coconut oil on medium-high heat until melted and pan is hot enough to brown the chicken.

Cook for about 3-4 minutes on each side, playing with the temperature of your frying pan and flipping a few times to ensure all sides of the skewers are nice and golden. Set aside for a few minutes.
With salad spoons, mix all salad ingredients together and dish out a nice portion onto each plate.

Add chicken skewer(s) on top of each salad and drizzle with Peanut Lime Dressing.