I am sure I have said it before on this blog but I'll just say it again, I absolutely love curries!  At this point if you've read a few of my posts you may have noticed I say this about most food.  I love meat.  Love chocolate (who doesn't?).  Love coconut.  I could keep going for a while.   But truthfully, curry is right at the top of my list.
I have loved curries for as long as I can remember but our true love affair started in the spring of 2014, when I went to Thailand.  To be fair I think there are lots of great restaurants here in Canada that make real good quality curries.  But there is nothing like the true taste of an authentic Thai curry cooked by a local lady at the back of her little kitchen shack.  I don't know if it's the fact that they use mostly fresh local ingredients or if they are keeping some of their curry making techniques a secret but somehow it tasted so much better than any curry I had ever tried before.
One night me and some girls I met at my hostel decided to go for dinner and all agreed we wanted to eat Thai.  We ended up at this tiny little restaurant on the side of the road which quite frankly looked more like an abandoned shack than a place you would order food from.  But from what I had heard from fellow travellers those little food shacks were usually the ones with the most amazing food, so I was fully expecting to have the best curry I ever tasted.
Well let me tell you that little Thai lady delivered!  I cannot describe how good this was.  I started with the panang, my favourite. It was soooo good I just wanted more, but wanted to try a different dish as I was certain it was going to be just as amazing.  So I promptly went to the lady to point to what I wanted to order next and she gave me a big smile and mumbled something in Thai.  About 10 minutes later (how did she do it so fast?) she delivers this amazing looking meal, places it in front of me, bows, and goes back to the kitchen.  Oh my god!  The Masaman curry was even better!  I actually went and and gave the lady a hug before leaving.   Masaman curry is a Muslim curry made with chicken, potatoes and a peanut-y sauce and quickly became a favourite of mine along with the Panang curry.  It will most likely be my next attempt at making Thai curry and I promise to post the recipe as soon as I get to it (assuming I succeed at making it).
I tried a variety of their local specialties while over there and enjoyed it all very much.  Of course there's the classics; yellow, green or red curry, all delicious.  One dish I really liked was called Tom Yum and is a coconut milk based soup with lemongrass and usually either seafood or chicken.  Also referred to as hot and sour soup.  Morning glory is some sort of a local green vegetable they cook in oyster sauce and ginger (if I remember correctly) and was a great side dish or starter.  Spicy  green papaya salad was super fresh and delicious.
After coming back to the Great White North I quickly endeavoured to become a curry master, with the help of my wonderful friend, Google.  I ended up with a list of about 5 different Panang recipes to try (of course I started with the Panang), and made it my mission to make the best Panang I ever had.  The bar was high.  Well I can't say for sure if I managed to make a better version than my Thai friend, but  after mixing all the best elements from each recipe and adjusting it to my liking, I can tell you it's pretty damn delicious.
I served it with a Cauliflower Coconut "Rice" (link below) and it turned out fantastic.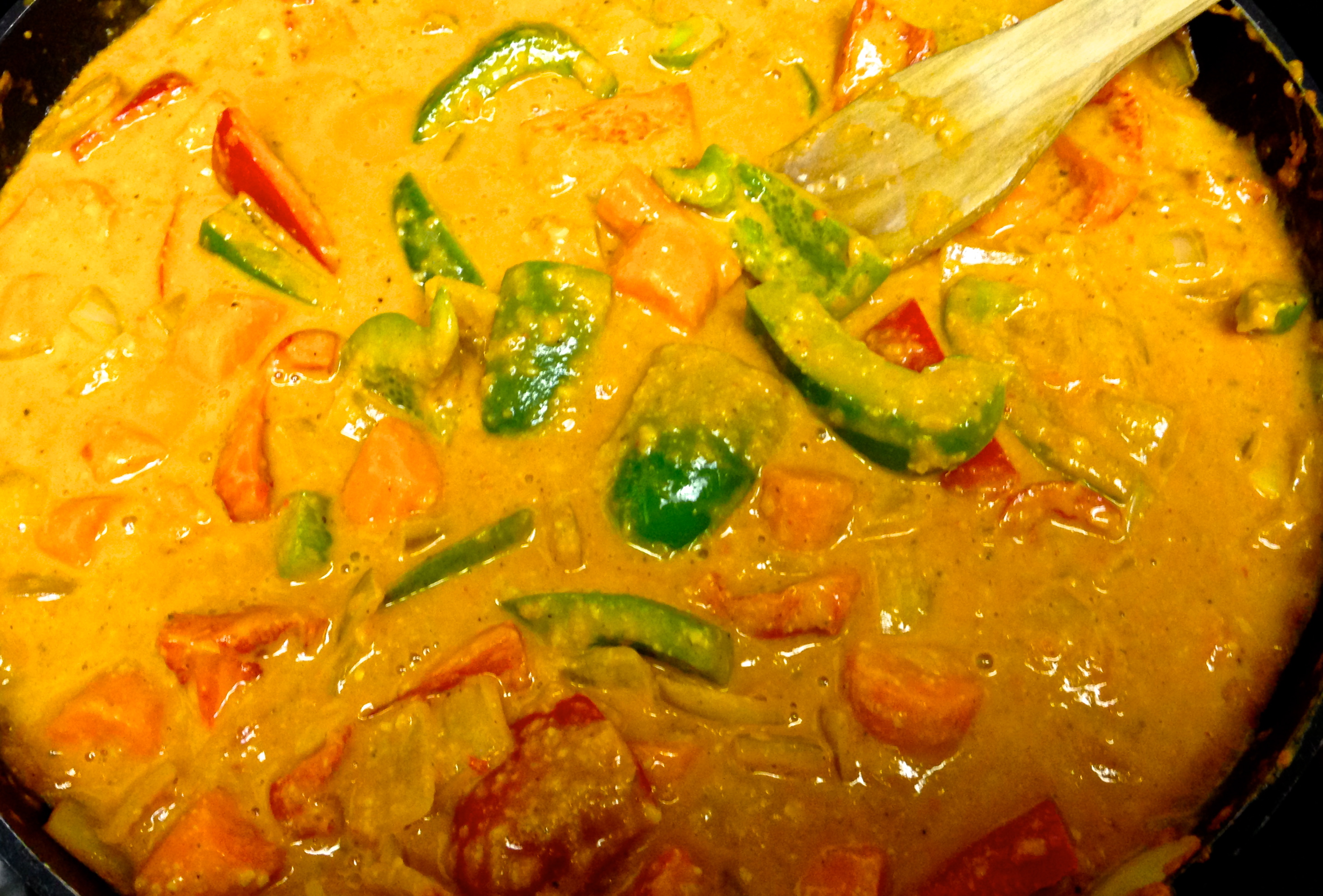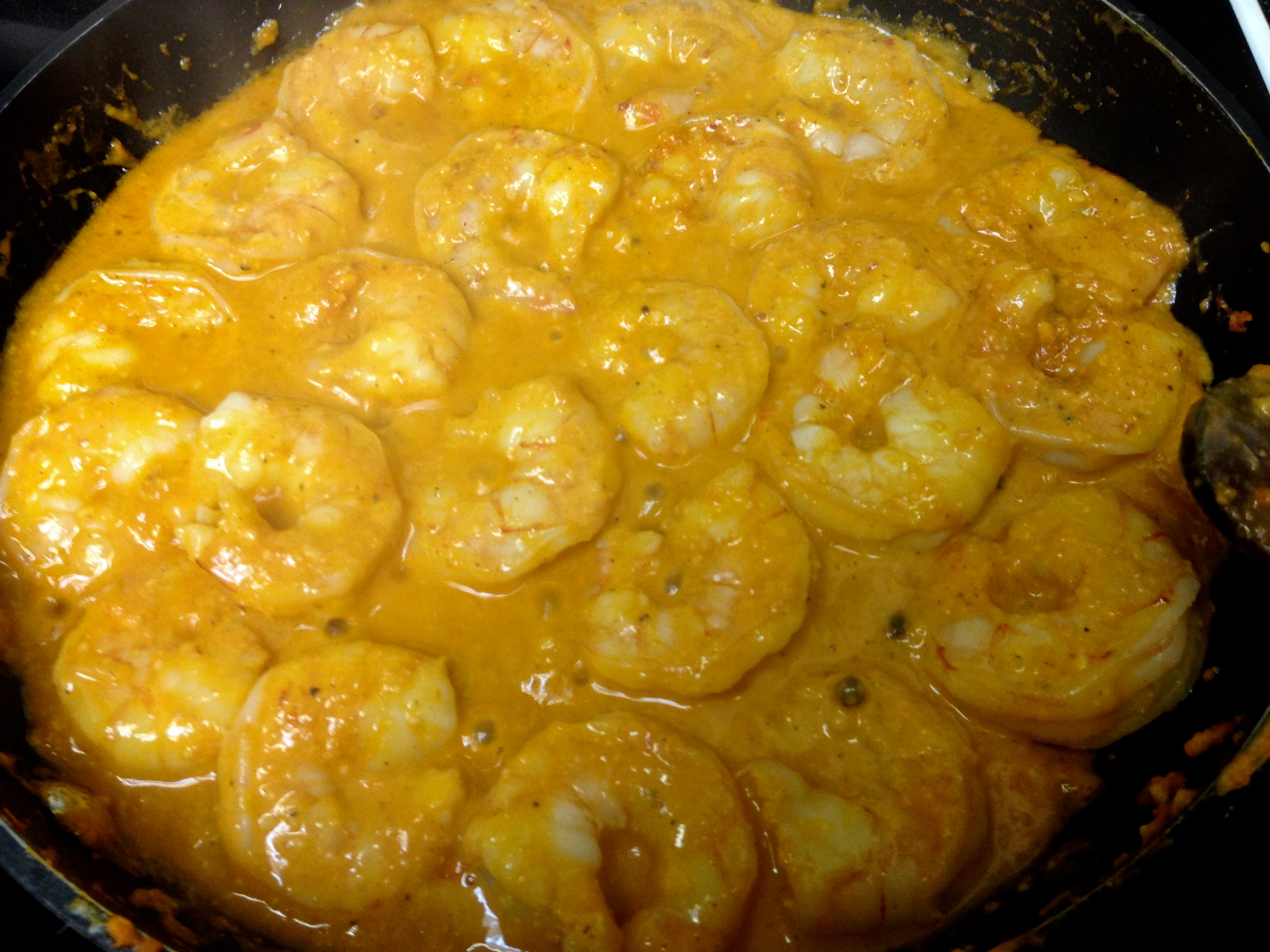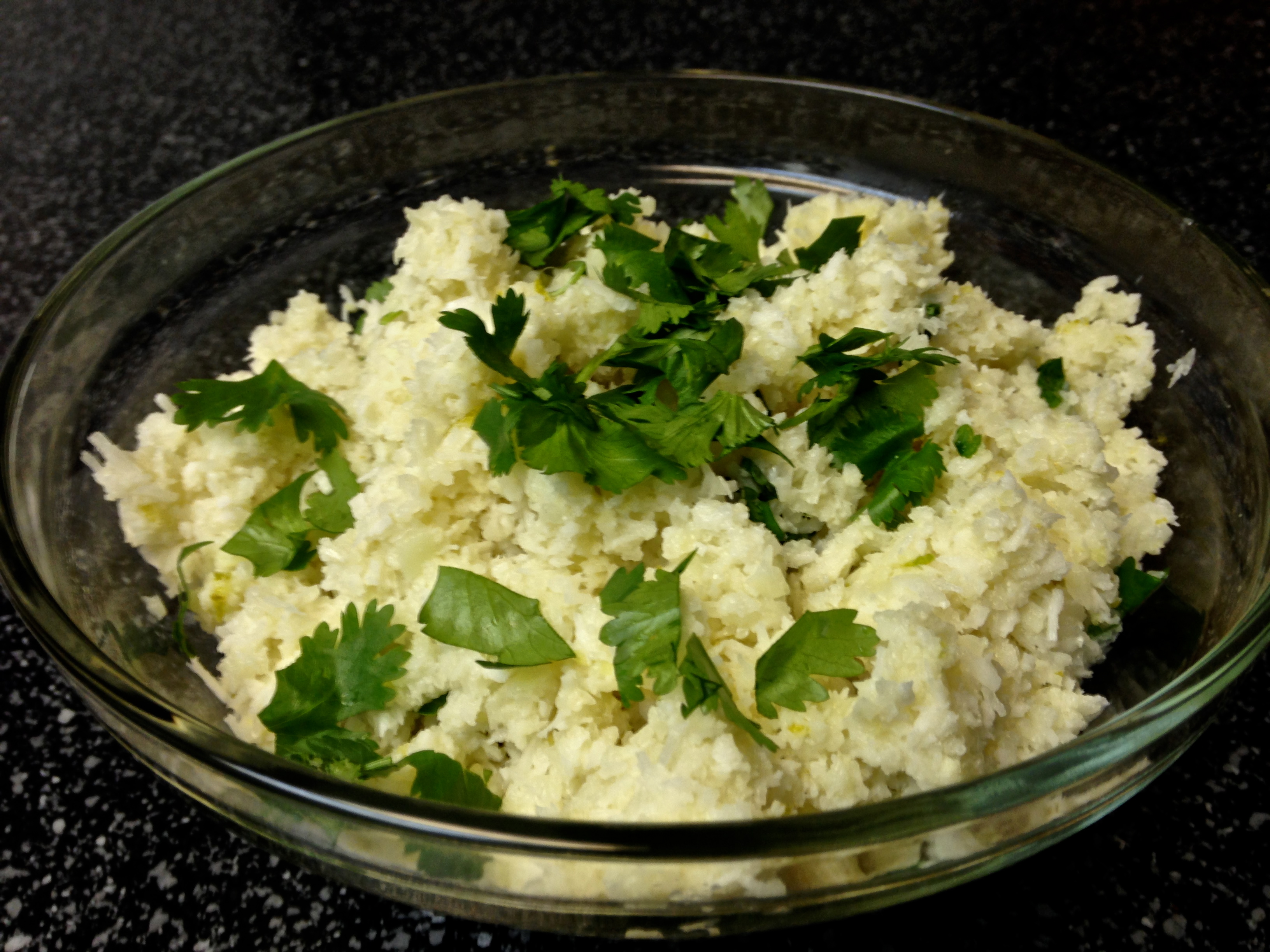 Please follow and like us:
Start by "toasting" your spices in a frying pan, on low-medium heat, until fragrant.

Combine spices and all remaining ingredients and, using a food processor, blend until a uniform paste is created. Set aside.
In a large frying pan, ideally a wok, start by melting 1 tbsp of your coconut oil.

When oil is hot, saute onions and peppers for about 3-4 minutes or until onions are translucent.

Add 1 clove of minced garlic, fresh ginger and lime zest and allow to become fragrant. Shouldn't take more than a few minutes, still on low-medium.

Add about half the total amount of curry paste and coconut cream you will be using and stir with a wooden spoon until all ingredients are well blended.

Add carrots, water chestnuts and the fresh lemongrass stalk to the mix. Let simmer on low-medium heat for about 20 minutes, still stirring, until carrots are almost cooked through

In the meantime, in a separate frying pan, melt your remaining 1/2 tbsp coconut oil.

Add remaining clove of minced garlic and add prawns to the pan. Saute for about 1-2 minutes on each side on medium-high heat. Add the remainder of your coconut cream and curry paste and allow to simmer for a few minutes.

Incorporate the prawn mixture into the vegetable mixture and add bean sprouts at the very last minute.

Stir well making sure all ingredients are mixed in. Serve in individual bowls and garnish with toasted cashews and fresh cilantro.

Serve with Cauliflower & Coconut "Rice", link below.
For the Cauliflower & Coconut "Rice" recipe, click here