I've had my eye on this breakfast idea for a while.  Although I had never tasted this before making it myself, I had heard of it and thought it sounded delicious.  I recently ended up in an Israeli ran restaurant called Greengos in Guatemala, and I saw the word 'Shakshuka' on the menu and actually had no idea what it was.
 Someone at a different table ordered it and I recognized it immediately from pictures I had seen on Pinterest.  The owner Golan and chef Atan (hope I'm spelling these right…) are both from Israel and run a great establishment with an awesome little restaurant attached.  They served the dish directly in the skillet as the sauce was still simmering, and I watched it go by wanting to shove my face in there.  Not sure why I didn't, or why I didn't order it right then and there.  I'm sure there was a good reason….But I kind of regret it because I haven's seen Shakshuka served anywhere else since.  Pretty sad stuff.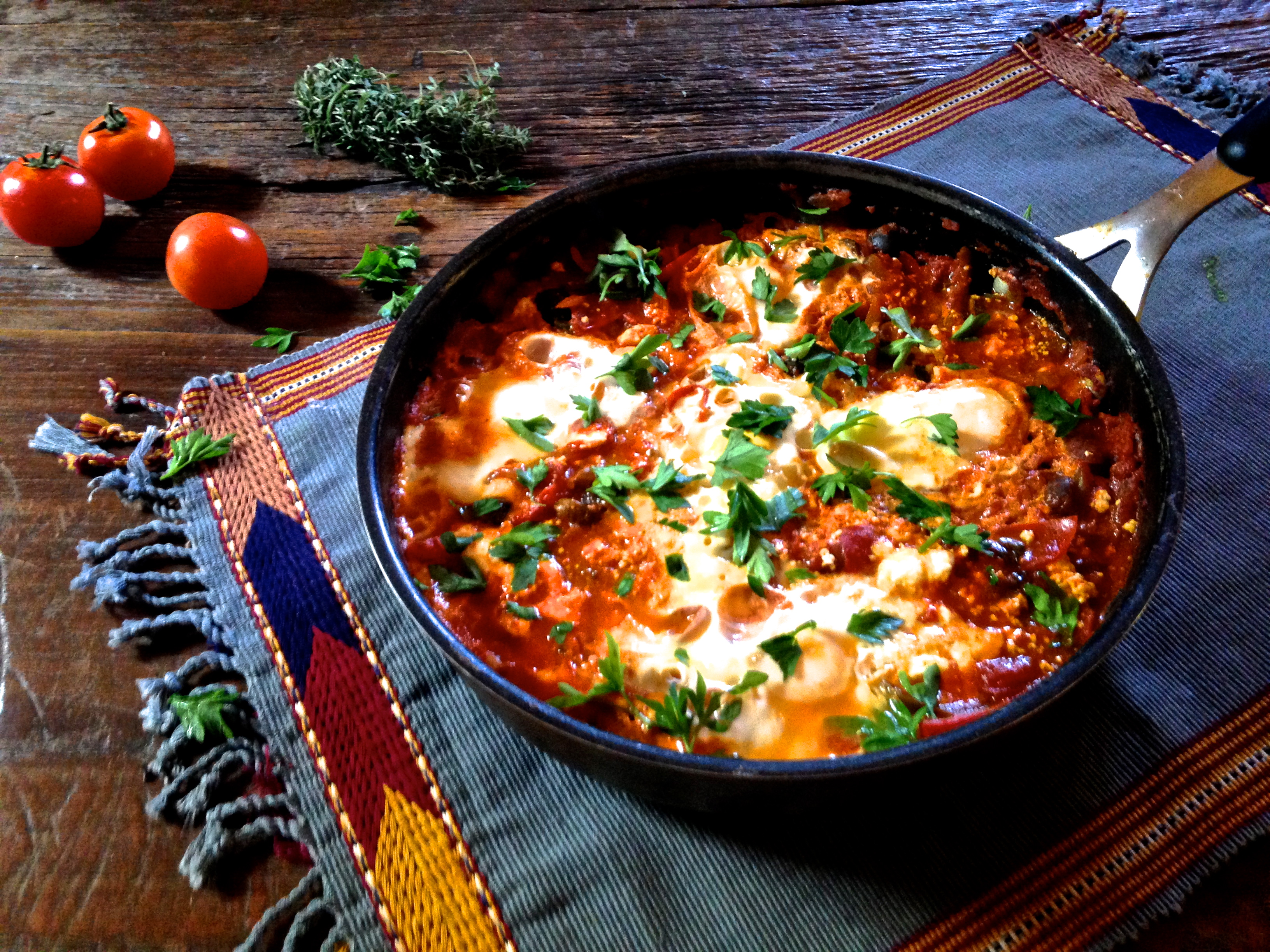 The only way to finally eat this mouth watering dish was to make it myself….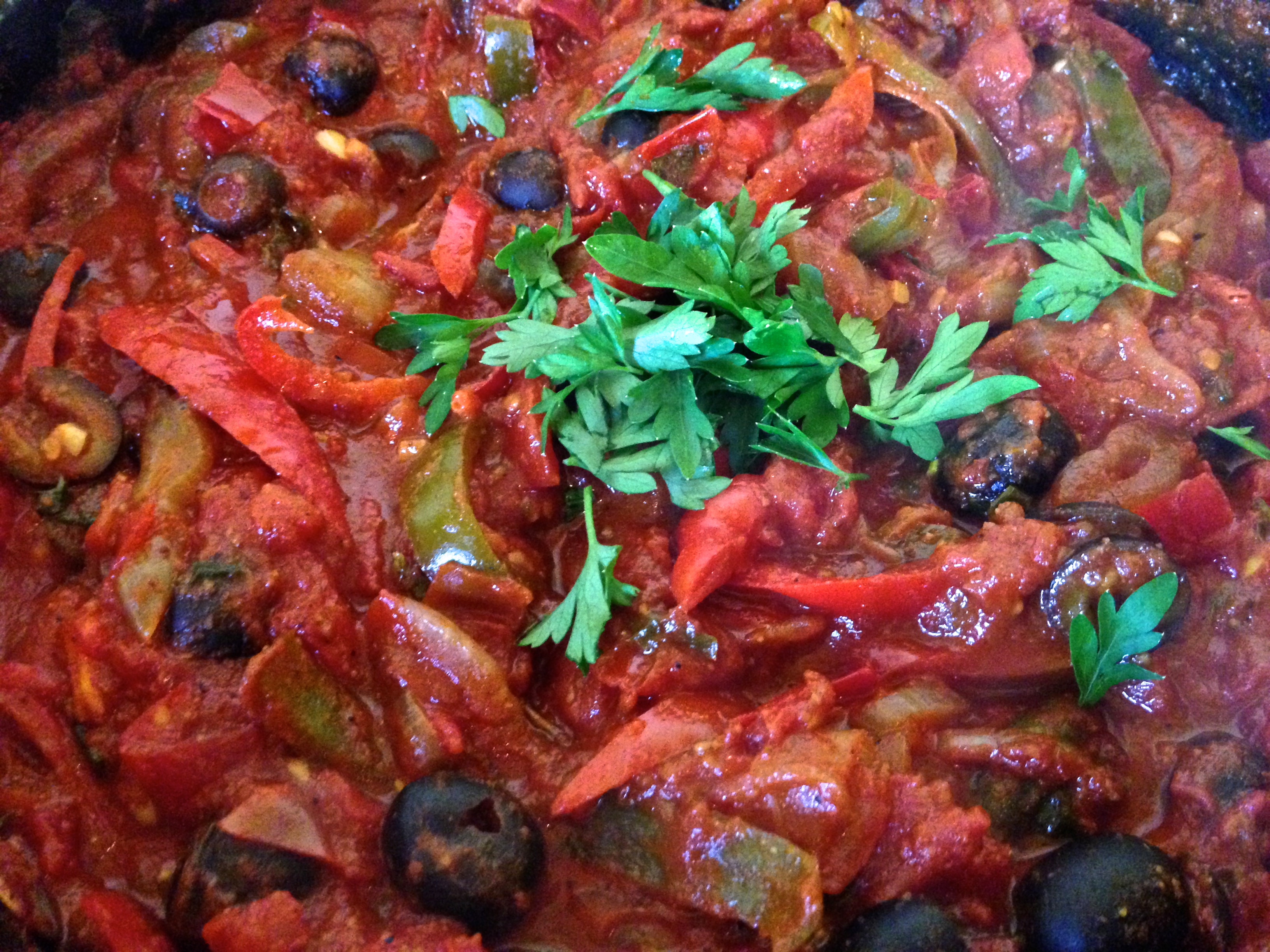 Eggs are getting bubbly in the simmering tomato sauce, keep an eye on them as they cook very quickly in the last little bit.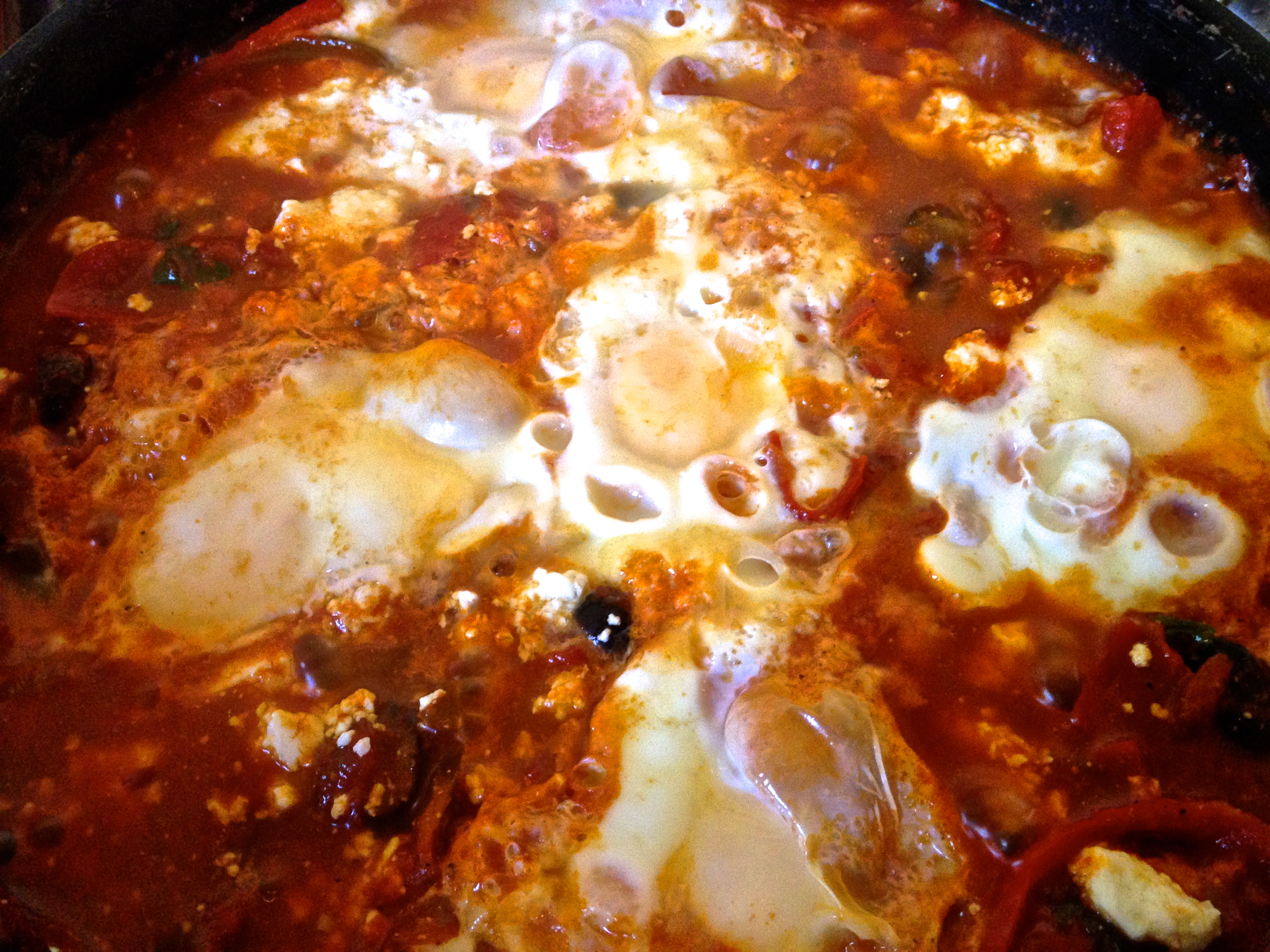 Please follow and like us:
If you are roasting your tomatoes (recommended), start your stove at 450f and place halved tomatoes facing down on a lined baking sheet. Bake for 30 minute, remove skins and dice. PS If you are deciding to roast your tomatoes you may as well roast your peppers. Same temperature and time will be fine.

If you are roasting you can chop your other veggies in the meantime and get everything else ready.

Begin by bringing a large skillet to medium-high heat. Add in a bit of either oil or ghee, and saute onions. Stir frequently until soft and add in garlic, cooking for an additional 2 minutes.

Turn the heat down a bit and add pepper slices, tomato paste, as well as all your spices. Toss to coat and allow peppers to soften.

At this point you can add the diced tomatoes, with their juice, as well as the fresh parsley and balsamic vinegar. Add salt and pepper to taste.

Cover and allow to simmer for about 20 minutes, allowing the flavours to blend. Note that if you previously roasted the tomatoes and peppers, you won't need to let it simmer that long. Use your judgment, the sauce should look like a tomato sauce at this point.

Discard thyme sprigs and bay leaves and garnish with crumbled feta.

Using a spoon, create wells in the sauce mixture. Crack eggs, dropping one in each hole. Cover and let cook on low-medium heat for about 6-8 minutes, depending on your stove and how runny you want your eggs.

Allow to cool down for a few minutes and garnish with some extra parsley. Transfer servings onto individual plates or bowls. Serve with bread if desired or enjoy on it's own!