Good day, friends!  Today I am sharing with you one of my all time faves, completely re-vamped with some new goodies on top.  If you've read my blog a few times, it is no secret to you that I absolutely adore pesto.  In fact I adore many things to the point of not wanting to stop eating them.
Thankfully for me, most of those things are really healthy.
I grew up in a family with a dad that just loves cooking and is actually pretty darn good at it.  Pesto is one of the things he showed me how to make when I was about 17 years old and was just learning how to cook myself.  We lived in Costa Rica at that point and fresh basil was dirt cheap (pine nuts weren't though) so we would just make it in huge batches and freeze it.  I remember pesto dinners being the ones I looked forward to the most.  We would just saute a ton of veggies and toss them in our pesto sauce on top of spaghetti (yes I used to eat pasta).
For years I stopped making it, both because I was too lazy too cook anything (early twenties), but also a bit later on because I didn't really do well with dairy, and in my mind, pesto was very much one of those recipes that wouldn't be the same without cheese.  Well I can guarantee you, I was wrong.  I kind of forget what traditional pesto taste like, after all these years, but trust me when I say you can absolutely make it with different ingredients and still taste out of this world.  Traditional ingredients for pesto are: fresh basil, pine nuts, extra virgin olive oil, garlic, good quality parmesan, and salt & pepper.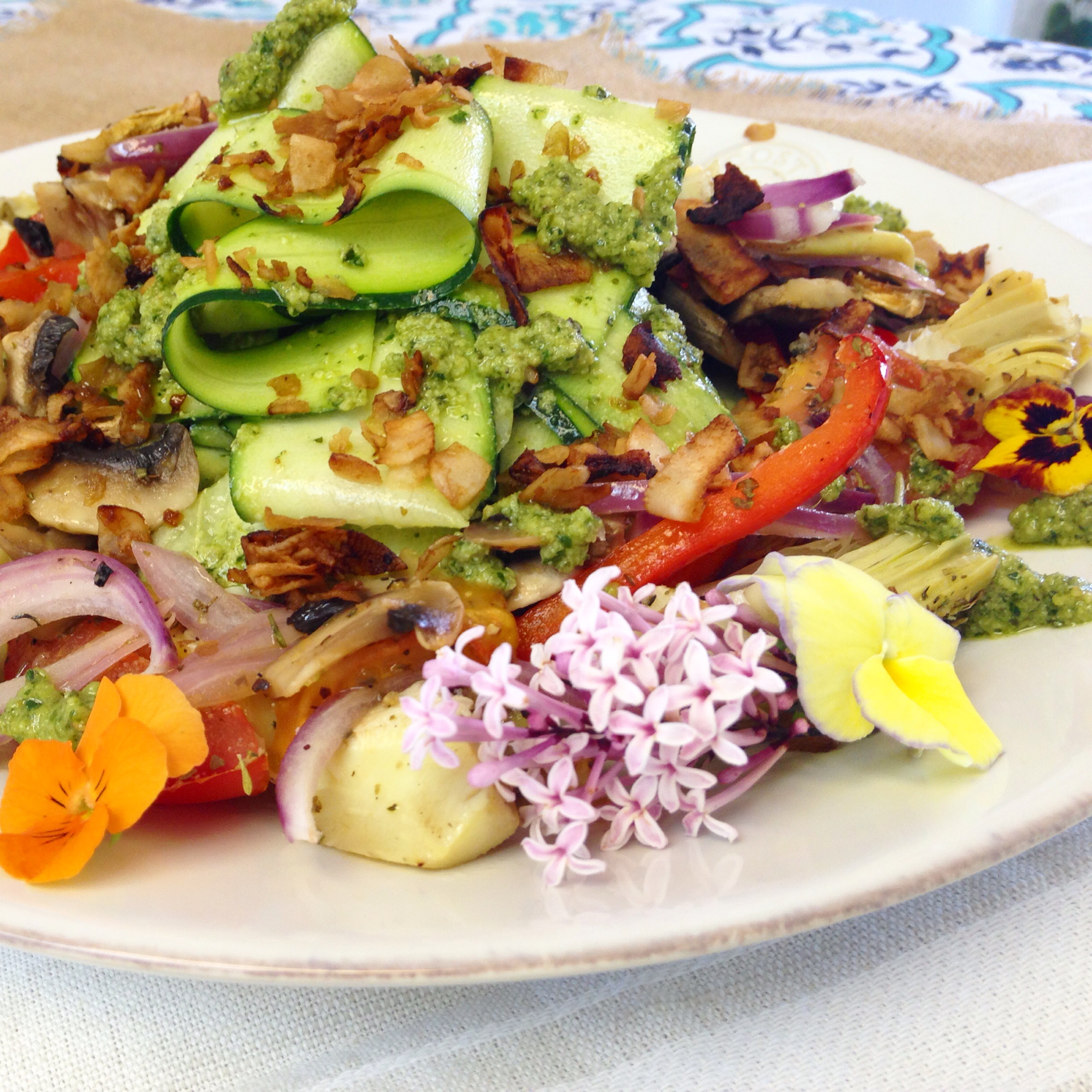 What I discovered in the last couple years is that not only is pesto delicious, but it is extremely versatile.  Yes you can throw it on everything and anything but what I mean by versatile is, you can play with switching up the ingredients so much.  Basil pesto is amazing, but have you ever thought of using a different herb?  I made the one for this recipe with mint and it was very bright and fresh and a great summer pesto.  I have also tried it with rosemary and it was fantastic.  Maybe sage next?   Another ingredient you might want to consider swapping is the pine nuts.  For starters they are ridiculously expensive, but also there are so many great alternatives.  Pistachios make a great pesto!  So do cashews.  But my latest obsession (yes, it is an obsession if you make it at least every week), is pumpkin seeds.  They have to be slightly toasted, and they make a beautiful, rich and nutty pesto.  Garlic is a no brainer, it has to go in, and so does the olive oil.  Nutritional yeast has been my new best friend ever since I stopped eating cheese, if you haven't tried it yet, you must.  They really do add a lovely cheesy taste and texture to sauces, condiments or anything you put it on.  I have also thrown in some fennel, shallots, spinach, sweet peas, walnuts, kale, you name it.  How was that for a little pesto 101?1
And don't think for a moment that you need pasta to eat pesto, because zucchini noodles are just freakin' fantastic.  Again, they are not in any way the same as spaghetti but they do the trick.  I always liked the stuff you put on the pasta a lot more than the actual noodles anyways so to me skipping them wasn't a huge loss.   And you can say goodbye to the massive blood-sugar drop an hour later, you're welcome!
The next thing I want to blabber on about is coconut bacon.  That's right, I said bacon.  Of course I use the word lightly as it is not actual pork bacon.  But damn it it's good.  I first stumbled upon this at the health food store in a funny little bag labeled "Phoney Baloney".  Clever marketing right.  It is not bacon and I am not trying to pretend that it is, I love real bacon.  But who said smoked coconut wasn't delicious too?!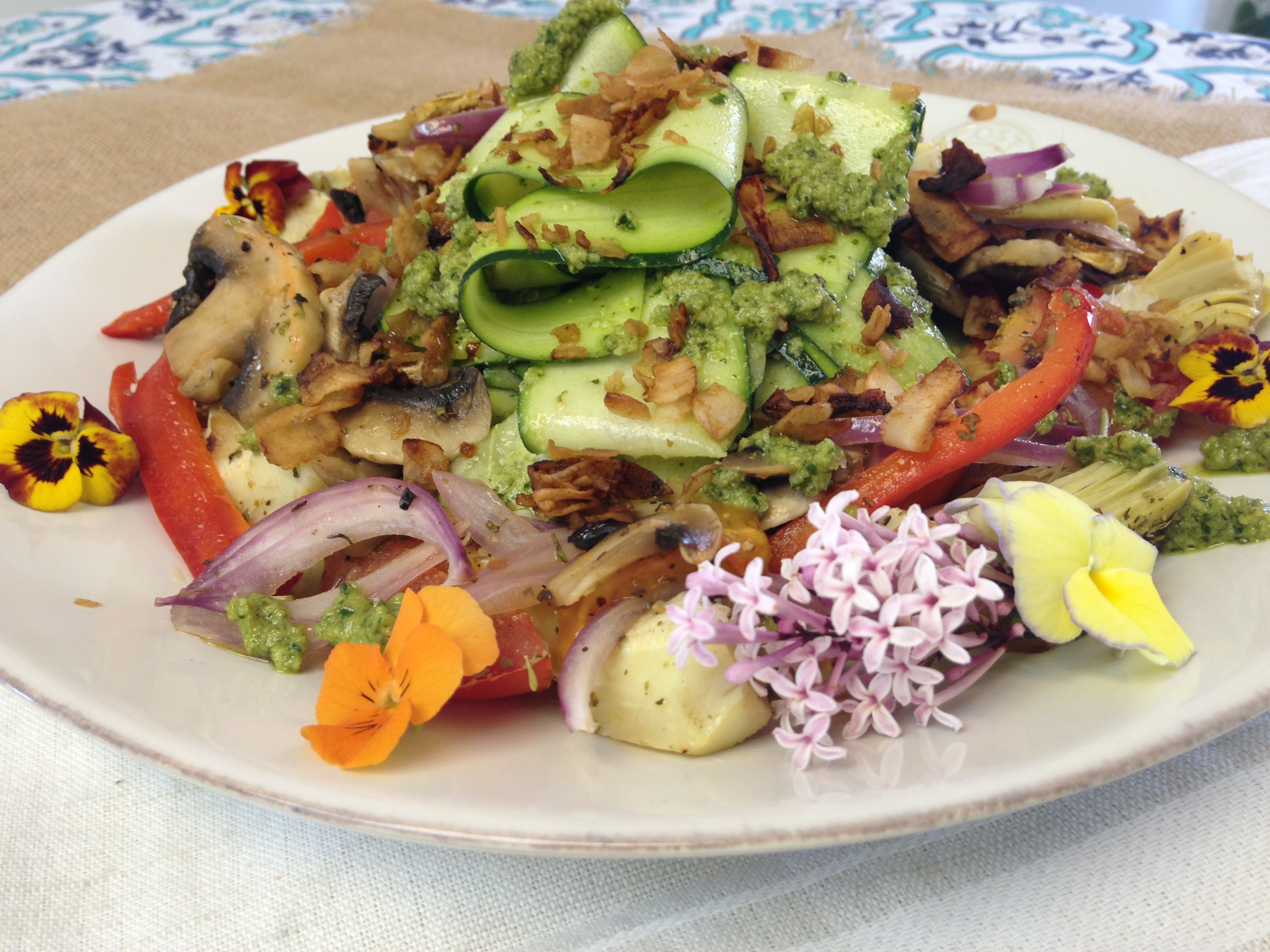 Please follow and like us:
Throw all the pesto ingredients in a food processor and blend until pesto is nice and smooth. Set aside and keep at room temp until plating the parpadelle.
Mix coconut aminos, maple syrup and liquid smoke together. Mix into a bowl with coconut ribbons and toss to coat. Spread on a parchment paper lined cookie sheet and bake @ 350f for about 8 minutes. Set aside.
Preheat oven @ 375f. MIx all the sliced veggies together (not the zucchini) and lay in a baking dish. Drizzle with olive oil, toss in the minced garlic, and sprinkle with salt & pepper and fresh herbs of choice (I like thyme). Place in the oven for about 30 minutes or until veggies are cooked to your liking.
Using your veggie peeler, peel the zucchinis into long strips to make your "parapadelles", these will be the base of this dish. Once the zucchinis are done, toss them in a bowl with a couple big spoonfuls of pesto and toss to coat. Add a bit of olive oil if needed. Place the zucchini parpadelles onto each serving plate, top with the roasted veggies, sprinkle some coconut bacon all over and some extra pesto to taste (I like to have a lot). Garnish with pretty flowers (optional).