Are you ready for this?  Ok I get it, this might not be a novelty for most of you guys.  But it is nevertheless one of the best, most decadent and mind-blowing desserts you will ever have.  Not even exaggerating.  The next comment is for adults only.  This is the closest you will get to an orgasm without sex.  I swear.  So rich that it tastes like there could be a quart of cream and a dozen egg yolks in there, except there isn't.  There's avocado.
I have a little game I like to play when I make this for my loved ones.  I start by telling them it is completely dairy free and vegan and they usually give me this look filled with questions and disappointment, like the fact that there is no dairy will make it taste like garbage.  I then proceed to my little game, by asking if anyone can guess what the main ingredient of this mousse is.
I have had everything from coconuts to bananas and I think I even remember someone saying beans once (that was before tasting it).  They were all good guesses considering the fact that there are many raw chocolate mousse recipes out there that are coconut or banana based.  I have tried them both and thought that the coconut one was too coconut-y (and I love coconut) and the banana one too chunky (never got the smooth result I got with the avocado).  Point is, no one has ever guessed avocado (that was before it became a popular thing).
All you will taste is rich creamy chocolate, I promise.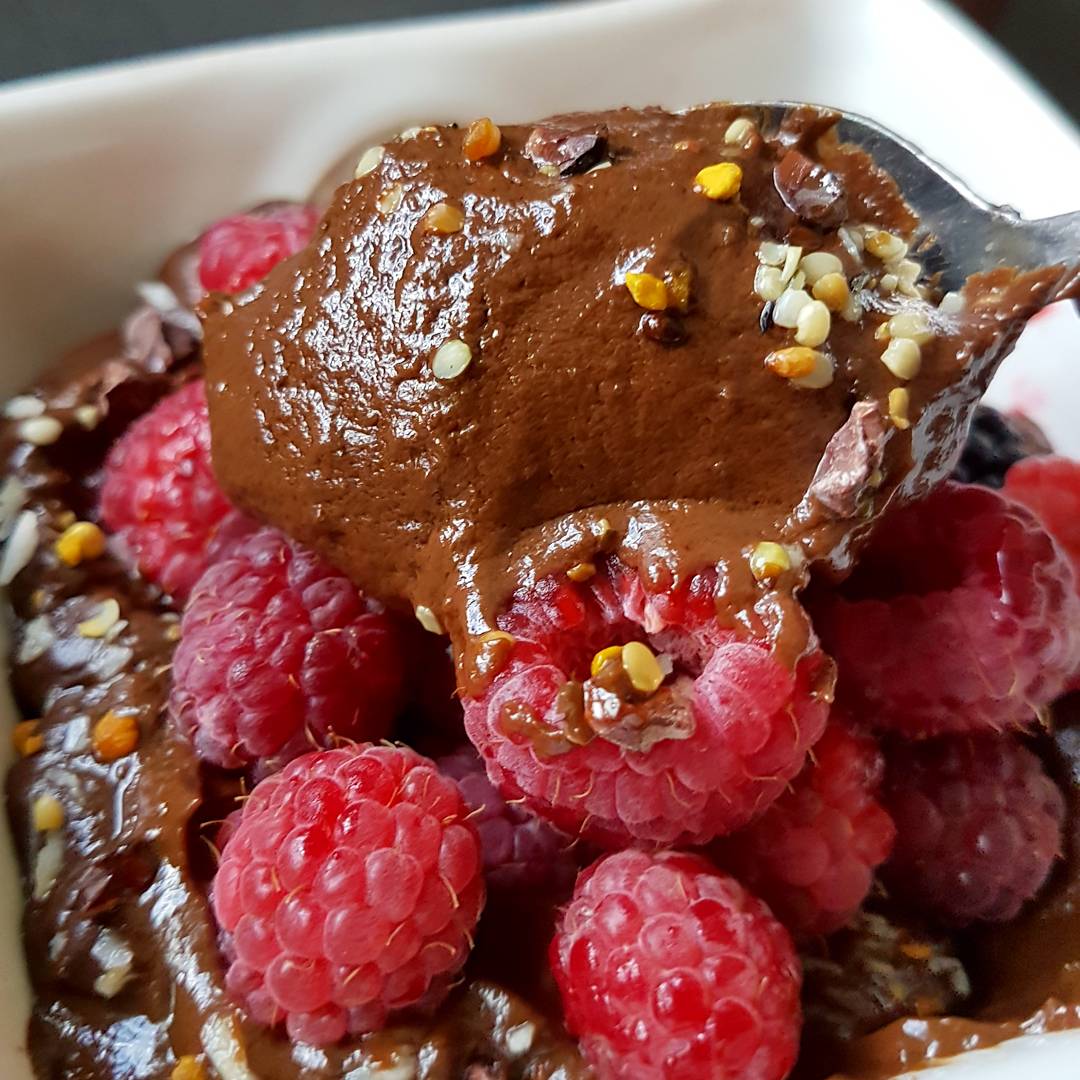 If, like me, you have a slight chocolate addiction and completely lose any type of self-control when you even have just one lick of something chocolate-y, this dessert will be very dangerous for you.
Also I'd like to mention for the sake of anyone who is not used to having chocolate…Cocoa is a pretty powerful stimulant and has a pretty high caffeine content so maybe don't eat this right before bed.  Pure cocoa makes it a lot more potent than milk chocolate candy, just so you guys know. This is just a piece of advice I want to give you from my own personal experience because I ate a whole serving and didn't sleep till 4;30 am.  Not joking, it was no fun, I was wired.  Maybe have it for breakfast, it will give you a chance to burn off all the energy.
I love serving this with raspberries because their acidity helps cut down the overwhelmingly rich (but delicious) flavour of the chocolate.  And if you have never had raw cocoa nibs please note that they are nothing like chocolate chips you find in the stores.  Cocoa nibs are just pure cocoa and have a pretty bitter taste, which once again, I think balances this dessert perfectly.
Please follow and like us:
Melt your coconut oil either by placing coconut oil jar in a bowl of warm water or by scooping oil in a saucepan.

Place flesh of the avocados in a food processor along with rest of the ingredients and process until super smooth and creamy, this might take a few minutes.

Taste and adjust ingredients to your liking. Add more coconut oil if you want it to be more creamy.

Serve with fresh raspberries and raw cocoa nibs or any garnish of your choice.