I must say that when it comes to Paleo bread or tortilla substitute, I am generally pretty skeptical.  I mean I've tried several of those recipes and for the most part, they either fall apart or they don't deliver at all in the flavor department.  But these cabbage leaves, oh let me tell you, they totally surprised me, in a good way.  Not only did they hold well (even better than actual tortillas), but they also covered more ground than a traditional tortilla, which means, more of all the tasty stuff that goes in the taco.  Plus, bonus; you're saving yourself from eating a bunch of unnecessary calories, which leaves more room for eating more of what actually tastes good.  I think that's a win-win.
Plus, they look pretty, they're nutritious and you can make them ahead of time and put them on your plate.  No more time wasting with making a giant mess with each taco that you make as you go.
Don't just take my word for it, TRY THEM!  They even got the stamp of approval from a dude who usually loves tortillas, with a capital L.
I served these with a fresh batch of home-made guac and housemade chipotle mayo. For my Guacamole recipe, click here, for my Chipotle Mayo recipe, click here.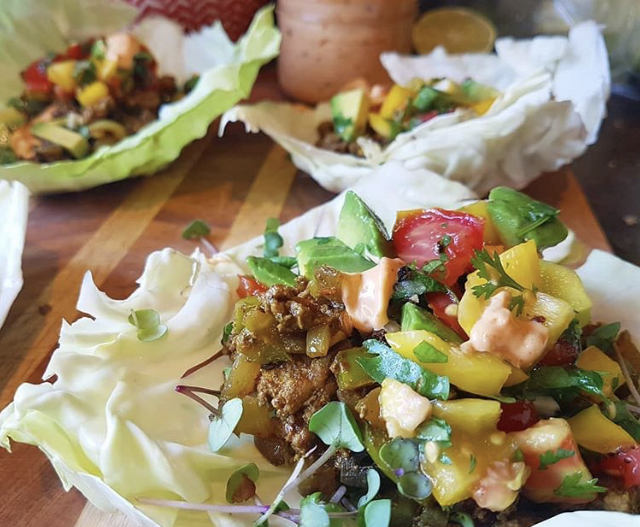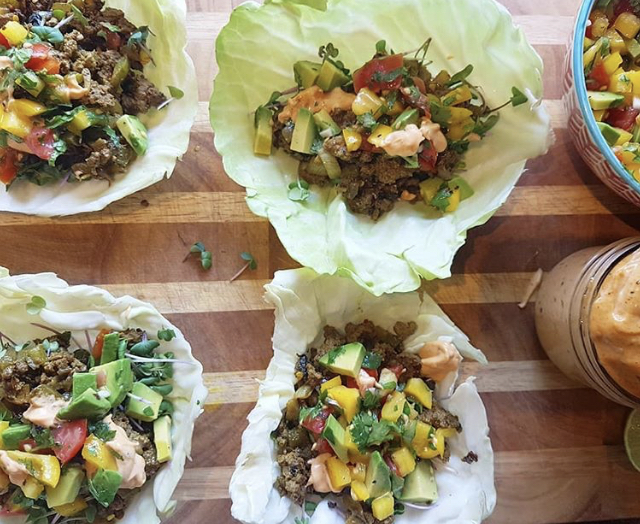 Please follow and like us:
In a small bowl or a mortar, place all spices except for salt & pepper and using your pestle, grind until spices all well combined. If you do not own a mortar and pestle, simply mix the spices together with a spoon and make sure to remove the bay leaf and cloves when finished.

In a large frying pan, melt coconut oil on medium-high heat. Toss most of the spice mix in the pan, mixing into the oil. Add the ground beef, onion, mushrooms and peppers to the pan and mix well so that the spice mix coats everything as evenly as possible. Cook for a few minutes and add the minced garlic love, lime juice and coconut aminos. Continue cooking, stirring occasionally, until the beef is fully cooked. Season with salt and pepper to taste and set aside.
In a small bowl, mix all ingredients together and adjust salt and pepper to taste.
Separate the cabbage leaves using your hands, being very careful not to break them, they serve the purpose of taco shell much better when whole.

Scoop out the beef & veggies mixture in each cabbage leaf, topping it off with the diced tomato, guacamole, chipotle mayo and fresh cilantro.