Indian butter chicken, one of my all time favourites.  This is definitely one dish I've tried making at least 10 different ways.  That's the thing with curries; unless you follow a specific recipe and portion every ingredient and each spice to a T, you will get a slightly different result each time.  And while the traditional recipe calls for heavy cream and yogurt rather than coconut cream, in the end there really isn't that much of a difference in terms of taste and the richness of the dish.  However, I found that using coconut oil to replace the ghee (clarified butter) does affect the end result a lot more.
So just for the sake of making it Paleo, I kept the ghee, but substituted coconut cream for the dairy cream.  Note here that I talk about coconut cream and not coconut milk.  The reason for this is simple, same reason as you wouldn't want to use dairy milk instead of dairy cream, it just won't be creamy enough.  To make sure you get only the cream or solid part out of the can of coconut milk, refrigerate overnight.  The cream will come to the top and the liquid will stay at the bottom.  Oh the beauty of physics…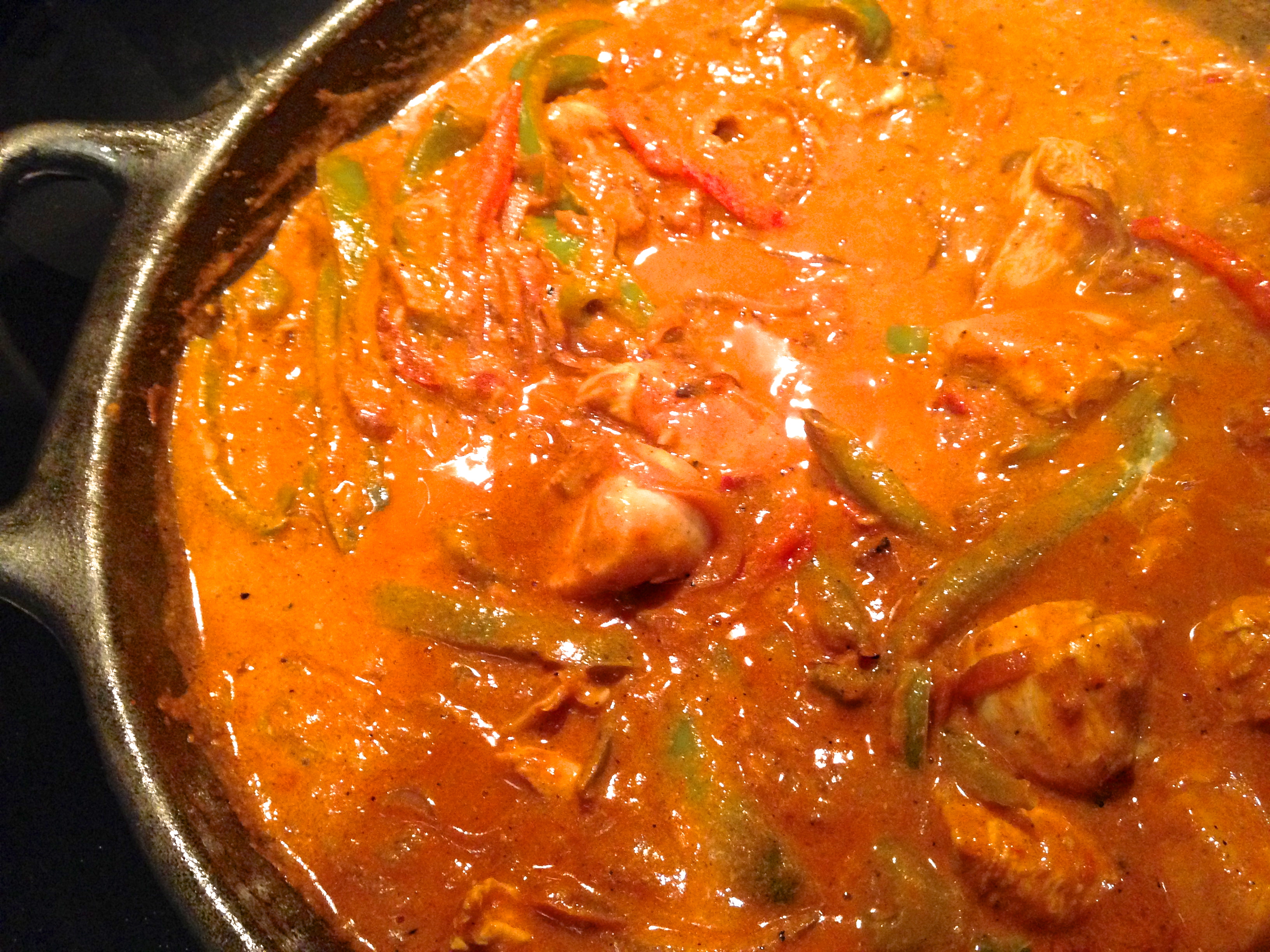 You will notice that I am not serving this dish with basmati rice as it is traditionally. And I decided to add red and green peppers to the curry, which also isn't traditional.  What you serve this dish with is completely up to you.  I don't eat rice in general but still wanted something to soak up all this delicious sauce so I made the Indian Roasted Veggies and the Paleo Naan Bread.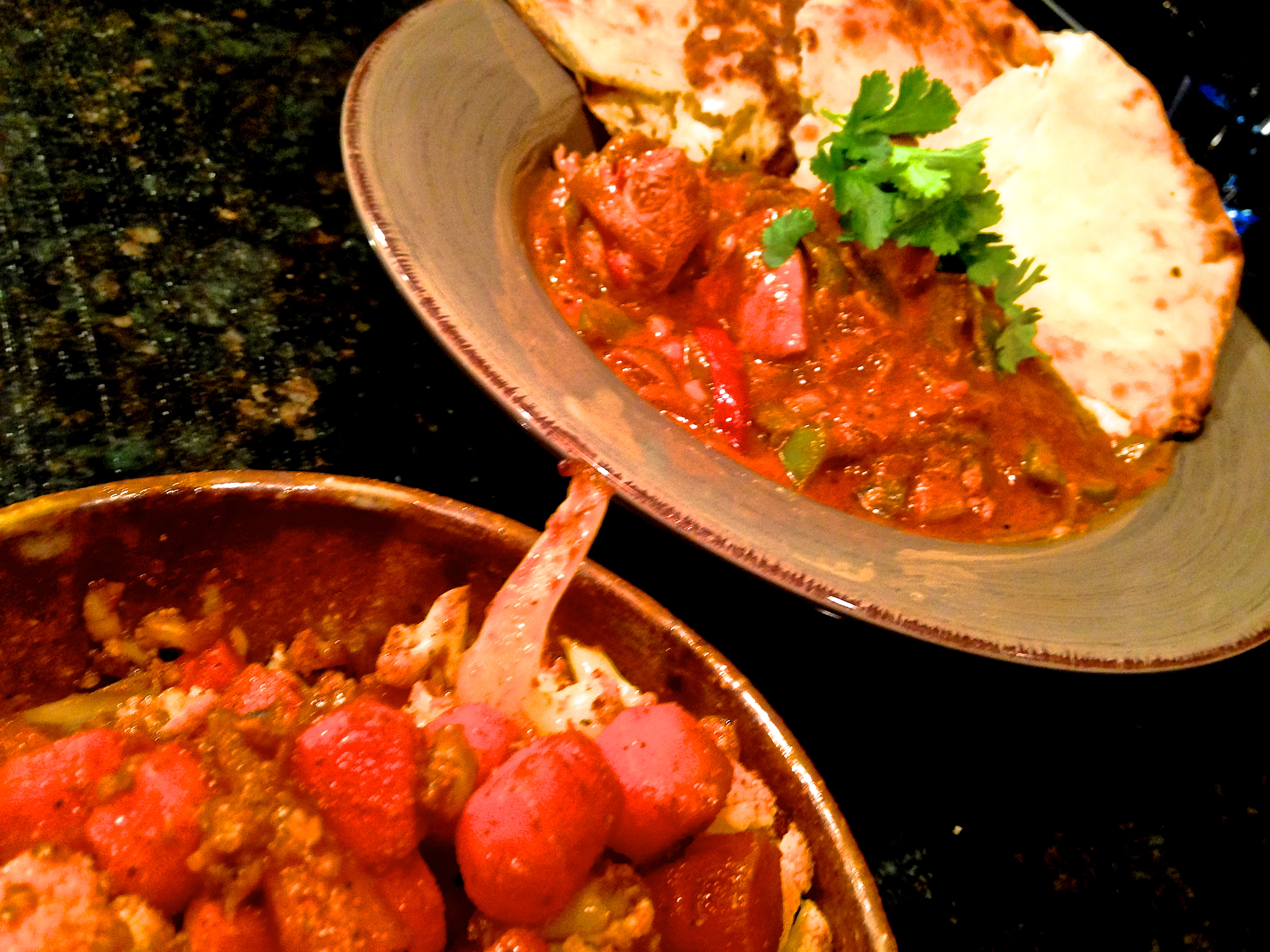 Please follow and like us:
Start by mixing all butter chicken ingredients into a bowl, adding chicken pieces only when the coconut cream and spices are well blended together. Coat chicken with mixture. Allow to sit for a while.

In the meantime, on medium heat in a large skillet (ideally in a cast iron pan), heat up 2 tbsp of ghee until melted.

Add spices to the pan and cook until they become fragrant, shouldn't be more than a couple minutes.

Add sliced onions, shallots and peppers to the pan and saute until onions are translucent and peppers soft, about 10 minutes.

Add minced ginger and garlic to the pan and cook for a couple more minutes.

Add remainder of the ghee and allow to melt. Add chicken and it's marinade and cook for about 5 minutes. Stir chicken to make sure it is nicely browned on each side.

Add crushed tomatoes, bay leaf and cardamom pods and allow to simmer for about 10 minutes.

Add coconut cream and lemon juice and leave on for another few minutes, on low heat.

Garnish with fresh cilantro & serve with Indian Roasted Veggies and Paleo Naan Bread.
Mix almond flour, tapioca flour, coconut milk and sea salt together until uniform

Drop a little bit of ghee and minced garlic on a nonstick pan over medium heat. When pan is hot pour batter to desired thickness. (This recipe will yield either 2 large naan breads or 4 medium ones.)
*For Roasted Indian Veggies recipe, click here