While uploading the pictures for this recipe I was realizing that I made this about 2 weeks ago…Yikes, I really need to get on top of my editing!
For anyone who cares, know that I haven't been sitting on my butt doing nothing, I have dealing with a few computer issues in the past little while which made my food-blogger life pretty darn difficult.  Anyways, I think I have it fixed now so I should be able to get back at it…and shouldn't have any more excuses to not post regularly in the next while.  Other than working full time.  And being in school too.  No big deal.
This dinner was one of the easiest things I have made lately and was pretty darn delicious!  It's funny sometimes how I can put in hours preparing a nice meal and it won't come close to something that only took me 30 minutes.  Sometimes less is more I guess.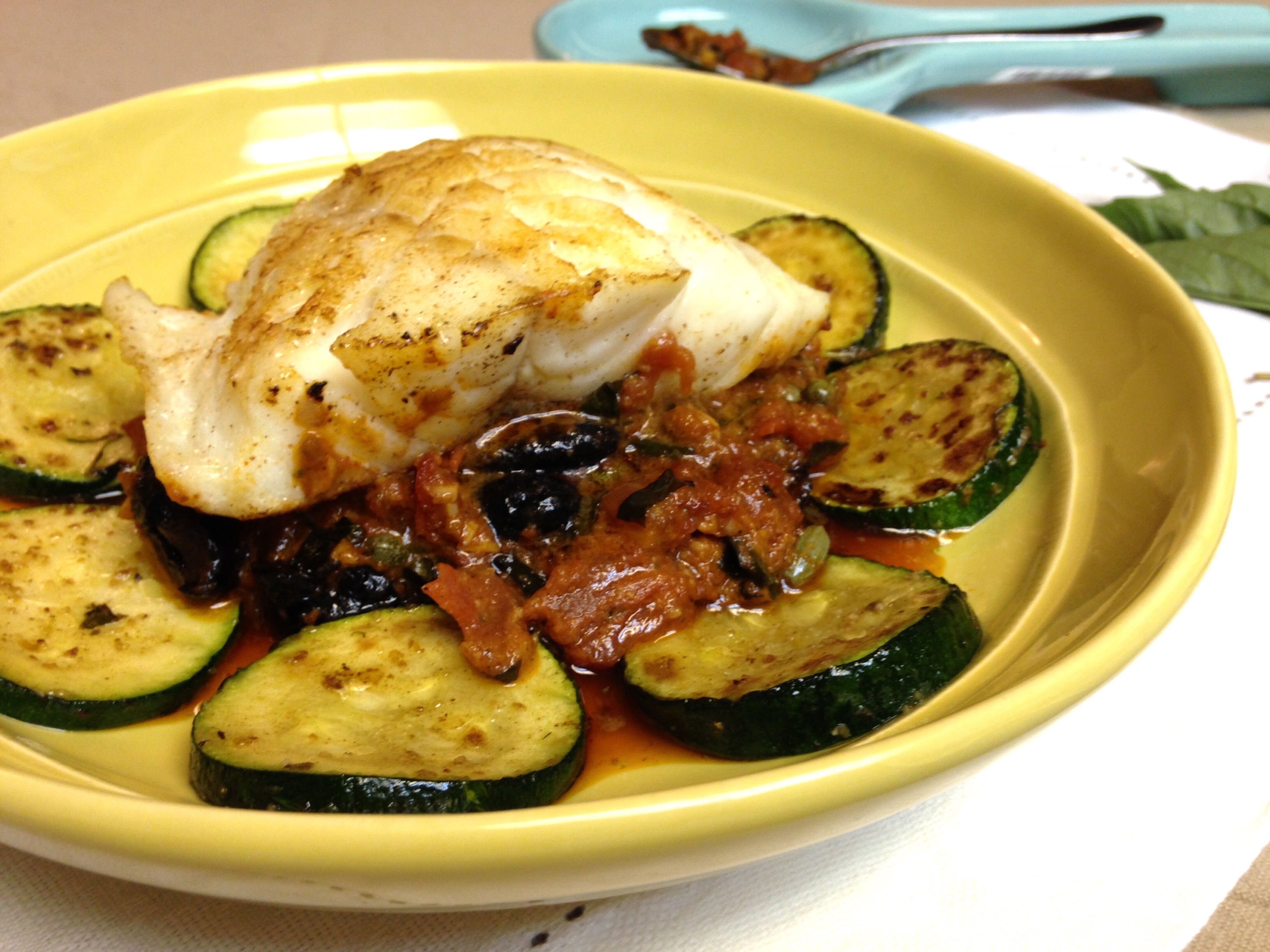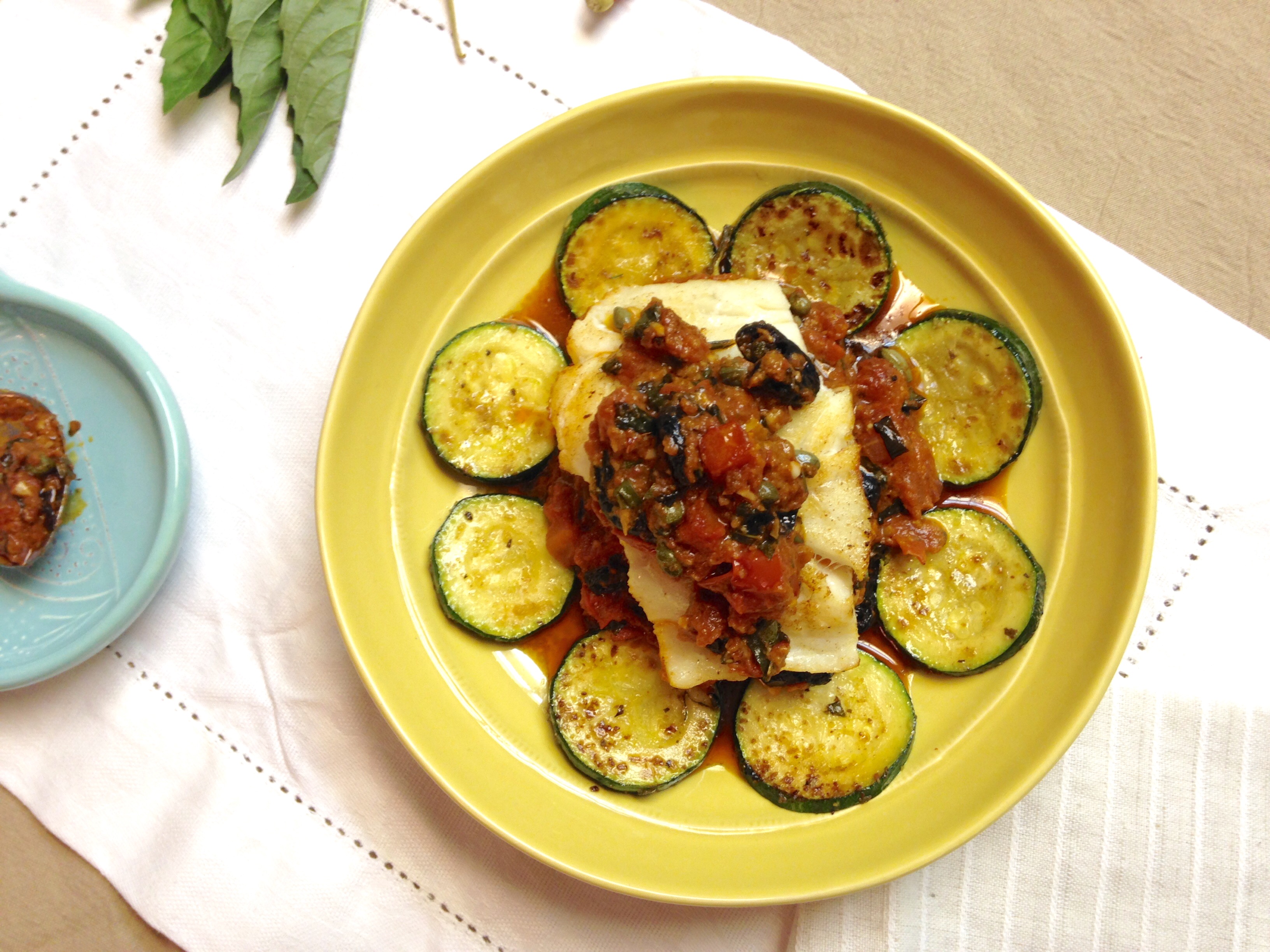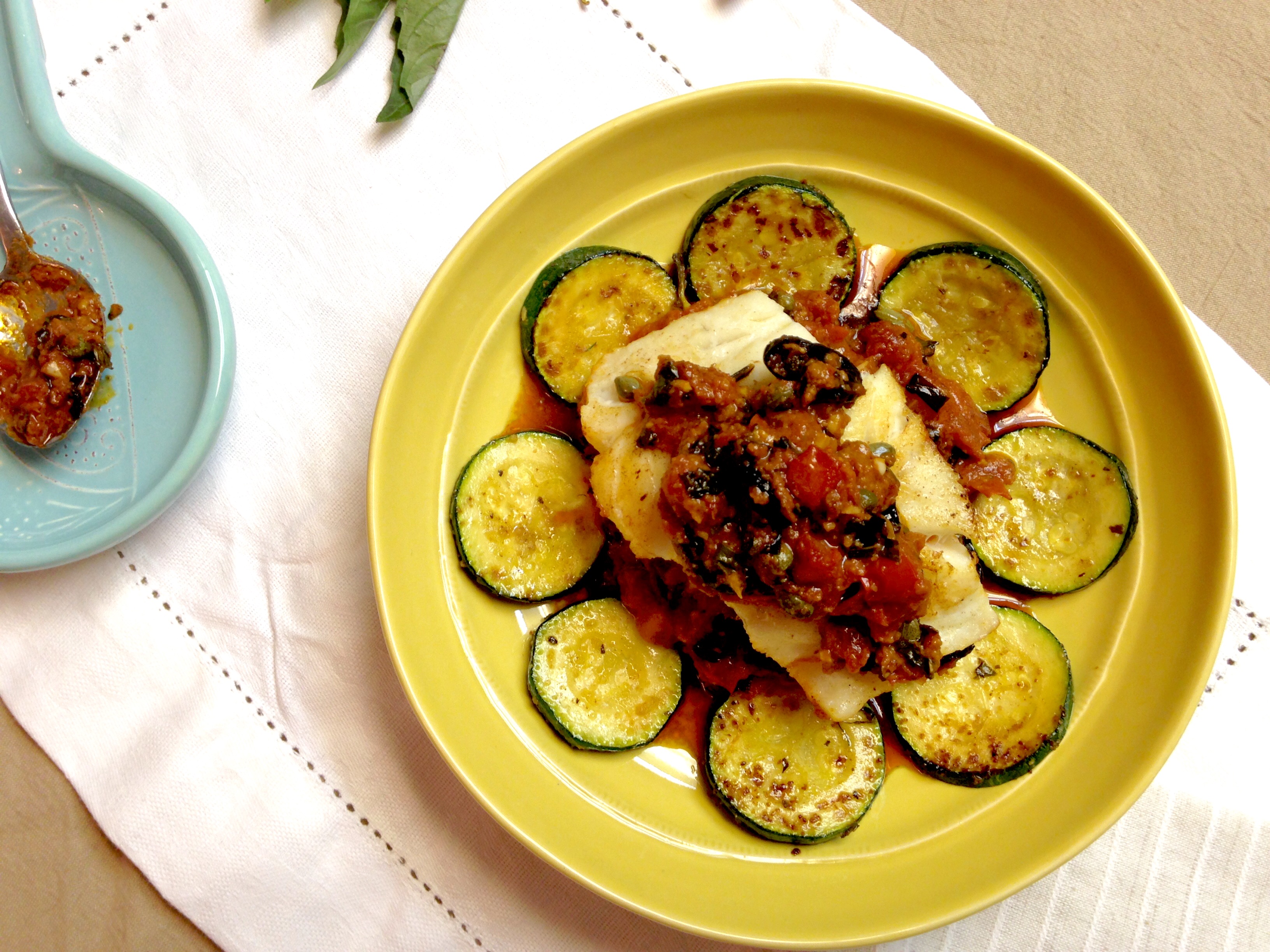 Please follow and like us:
Heat olive oil in a skillet on medium heat, then adding the minced garlic and the basil leaves. Stir gently for a couple minutes, making sure that the garlic doesn't burn.

You can then add the diced tomatoes, smoked paprika and red wine vinegar, season with salt and pepper and lower heat a bit and allow to simmer for about 15 minutes. *note that if you want to add the sundried tomato pesto to this recipe, now would be a good time to add it, so that it simmers with the roma tomatoes. When the sauce is done simmering you can add in the (pitted) olives and the capers and mix them in the sauce, you can use a wooden spoon to crush the tomatoes and olives to get the juices out. Start oven at 425f degrees to have it ready for the fish.

While your sauce is simmering, heat up olive oil in a skillet on medium-high heat. Season fish fillets with salt and pepper. Once your oil is hot, carefully place fillets skin side up in the pan. Cook for no more than 2 minutes, just enough time to allow the fish to create a slightly golden crisp outside. Flip over and cook skin down for an additional 2 minutes. Set aside (don't leave it in the pan or it will continue to cook).

Pour tomato sauce into a shallow baking dish and carefully place the fillets on top of the sauce. Drizzle a little bit of the sauce on top of the fillets, and cook for about 8 to 10 minutes. The fish is ready when the inside looks pearly white (shouldn't be transparent).

While the fish is in the oven, slice up your zucchini in 1/3" pieces. Heat up 1 tbsp of olive oil in a large skillet on medium heat, and place zucchini slices as evenly as possible on the skillet. Season with salt and pepper and cook for a few minutes without stirring. Once the pieces are nicely browned, flip over and cook for another few minutes or until tender.

To serve, lay zucchini slices in a circle around the outside of each plate. Dish out a little bit of sauce from the baking dish and lay in the middle of the zucchinis. Place fish on top and garnish with extra sauce.