This dish is another proof that eating healthy can not only be pretty simple but also ridiculously delicious..  It reminds me that years ago, I had no idea just how much flavor I was missing out on by sticking to the same ingredients over and over.
I mean we've all been there, you try a new recipe, love it, and then start making it every week.  You do that with about 10 different recipes and next thing you know you're bored out of your mind.  Let me tell you though, that once you get out of that box and decide to become more adventurous with your cooking, you and your taste buds are in for a world of excitement.
For me it all started with being more health conscious and removing  junk out of my diet.  All of sudden, I needed to learn how to make things taste good with REAL ingredients, real food.  It was such a game changer.  I began combining ingredients I would have never dreamed of putting together in the same dish before.  Each week, I discovered new spices and new (and sometimes weird) vegetables.  I felt like I was doing a real life culinary program, the self-taught kind, obviously.  Honestly I still feel like this today, I love experimenting with food, and although I certainly have gotten into some habits,  I never stop learning.   THIS, this is why I love eating the way that I do.  This is why I never feel deprived and why I don't ever have a problem turning junk food away, because I get to eat amazing food that makes me feel better than I could have ever dreamed of when I ate junk food.  It's also why I started working in the field of holistic health & nutrition:  I want to show everyone how simple, fun and satisfying healthy eating can be.  Because too many people still think that eating healthy means plain chicken and steamed broccoli, and that thought can be pretty discouraging, and it couldn't be further from the truth.  Heck if it were true I would have gone back to junk food a loooong time ago 😉
Oh I almost forgot, I also served this dish with a generous amount of dukkah, one of my favorite seasonings of all times, which is usually a mixture of toasted hazelnuts, sesame seeds, cumin, coriander and sea salt.  It is a-dic-tive.  Whoever thought of it was a genius, seriously.  If you want to spice up your cooking and love trying new flavor combos, click here.  If you don't like trying new things,  don't click anywhere.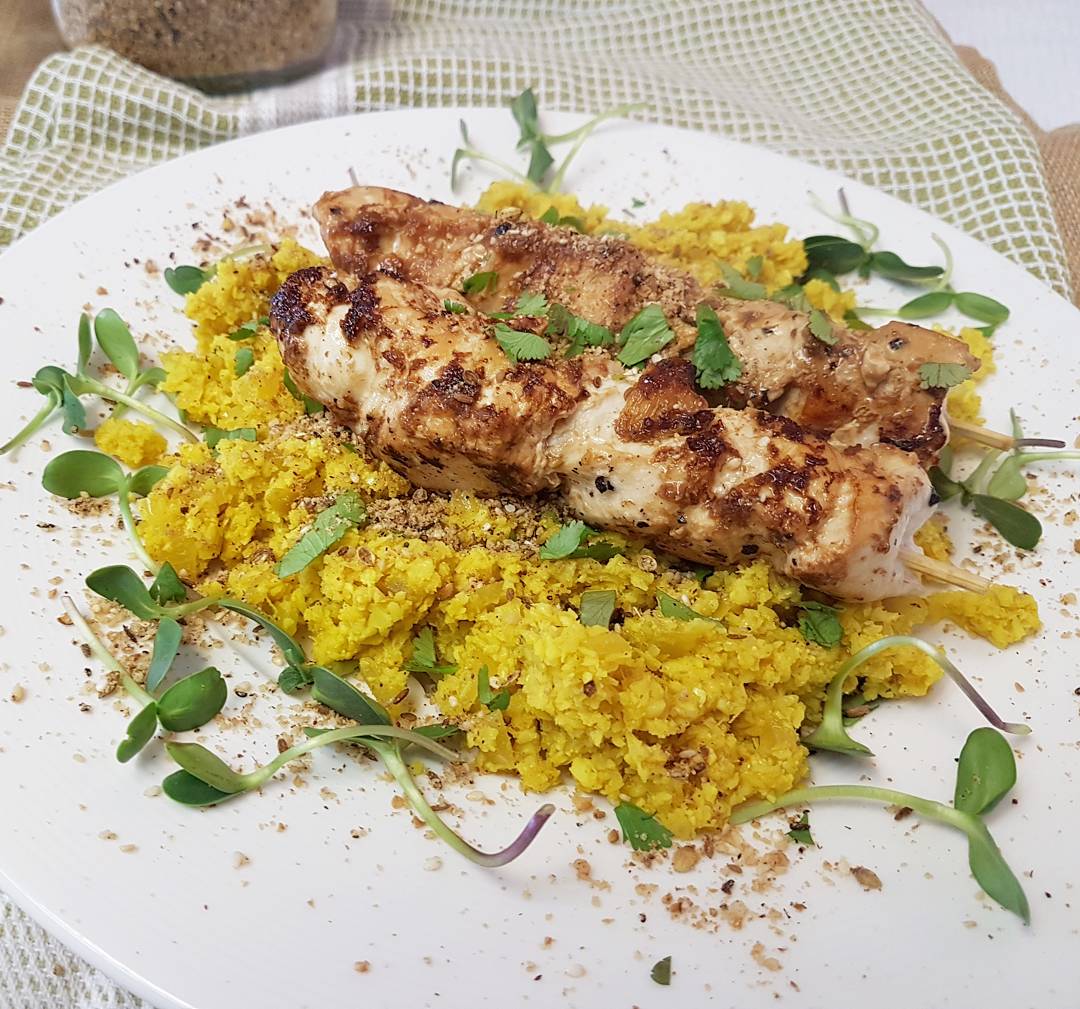 Please follow and like us:
To "rice" the cauliflower, simply cut the cauliflower into small florets, making sure you remove the chunkier part of the stem at the bottom. Place in food processor and pulse until the consistency is somewhat similar to that of rice.

In a large frying pan, melt the coconut oil on medium high heat. Add turmeric,cumin and coriander to the pan and stir into the oil. Allow to cook for a couple minutes and add minced onion. Stir well to make sure the onions are covered in oil and spices and cook until translucent and add garlic, cooking for 1 more minute.

Add the shredded coconut and riced cauliflower, stir and cook for a couple minutes, then add the coconut milk, one splash at a time, until fully absorbed. Set aside.
Cut the chicken breast into chunks as evenly as possible. Place on skewers and season with salt and pepper.

In a frying pan large enough to fit all the skewers, melt the coconut oil on medium to high heat. Place the skewers in the hot oil and allow to brown (about 3 minutes).

Throw in the lemon zest and garlic and lower the heat down just so that it's high enough to brown the chicken but not as high as to burn the garlic. Flip the skewers and cook for another 2 minutes on each side until all sides are cooked.

*As you cook the chicken, toss some coconut milk in the pan, one splash at a time. This will keep the chicken moist. In the last minute of cooking, add the lemon juice to the pan.

Serve the chicken kebabs on a bed of cauli-rice with fresh cilantro as a garnish. ***I also sprinkled a lot of dukkah on this entire dish and it was A-Mazing. Dukkah recipe on it's way.
*For my dukkah recipe, click here.