Mmmmm, crêpes…So many happy childhood memories.
I am not sure if I've mentioned this in any previous posts but I grew up in Québec, aka French land of Canada.  Well for some reason crêpes don't seem to have made their way out in the Western part of the country quite as strongly, because I can't seem to find a proper crêpe anywhere!  I see lots of pancakes and waffles which are very delicious as well but in my opinion not nearly as versatile as a crêpe.  I might experiment with savoury waffles soon but for now let's talk about crêpes.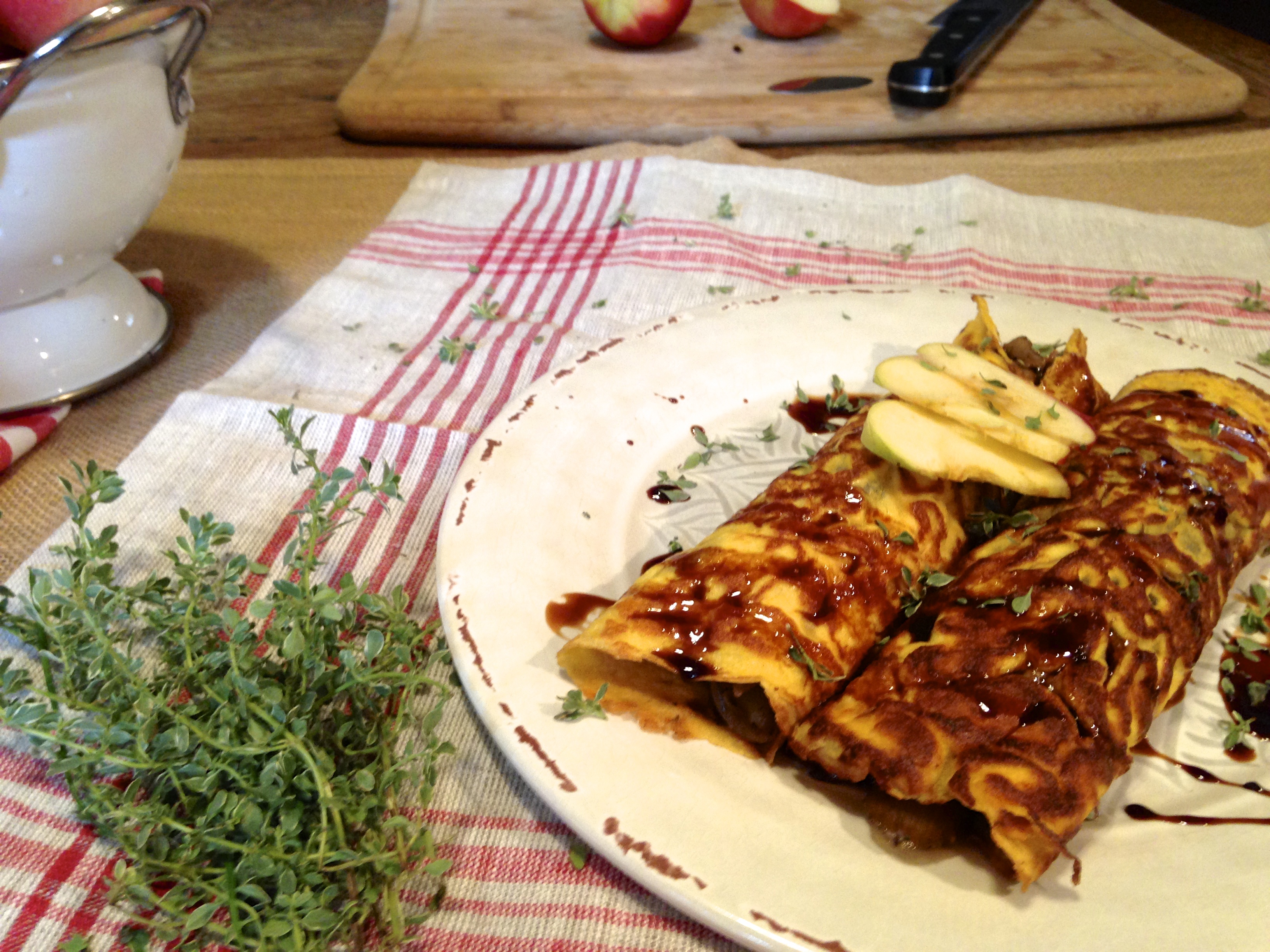 When I was a kid, my parents would make us crêpes with some (REAL) maple syrup for lunch sometimes and that was always my brother and I's favourite.  Once in a while savoury crêpes would also end up on our plate for dinner.  It typically consisted of ham, cheese, asparagus and a Béchamel sauce, which is really just a simple white sauce made of butter, milk and flour.
Unfortunately as I grew up and changed my eating habits dramatically, these little gems that had become such a staple in my French-Canadian diet could no longer be a part of my life.  So sad.
Until I discovered (only a couple years ago) coconut flour and almond flour.  These "flours" opened up so many doors for me as a non-gluten eater, and in my opinion they taste way better than wheat or buckwheat flours. And look at them, you could never tell the difference!

What's so great about these beauties is you can make it into anything you want!  Want something sweet?  Throw some caramelized fruits in there or maybe some ice cream for a decadent dessert (that's unreal by the way).  Or how about fresh fruit and yogurt with some nuts for a hearty breakfast?
The morning I came up with these I only had a few supplies in the fridge which forced me to get creative. Fresh, locally grown apples, mushrooms and shallots? Done!  Turned out to be a wonderful combination of flavours and possibly my new favourite crepe! I'll admit they are definitely not the fastest breakfast but they are so worth it!   Enjoy!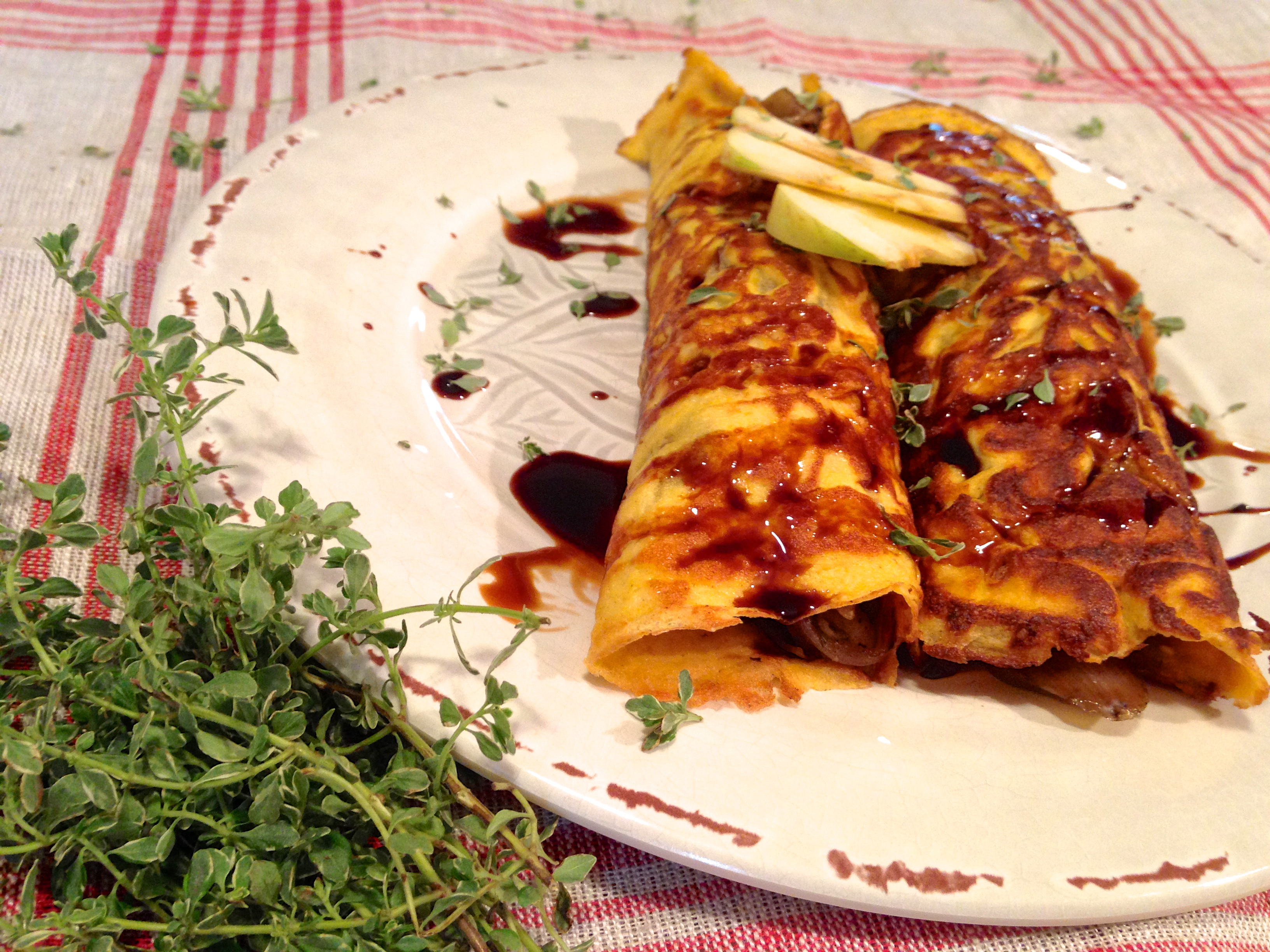 Please follow and like us:
Start my making your crêpe mix. Beat eggs, almond milk and the 1 tsp of melted coconut oil in a medium mixing bowl. Add sifted coconut flour, arrowroot powder and sea salt. Refrigerate for about 10 minutes.

Melt 1 tsp of butter or desired fat and allow to melt. Throw mushrooms, shallots and apples into the pan and sauté on medium heat. Add spices and sea salt and allow mixture to brown slightly, (about 10 minutes).

In the meantime, prepare a medium (crêpe size) skillet by melting a small amount of butter or coconut oil on medium-high heat. Spread the fat evenly on the pan to cover it's whole surface.

Using a ladle, pour mixture onto the pan. You should pour just enough to cover it's surface but not too much. Crêpes are supposed to be quite thin, we're not trying to make pancakes.

Allow to set and turn down the heat to medium-low. Cook until the edges start to lift. As gently as possible, work a spatula under the crêpe. When you feel that the crepe is holding well enough you can flip it over and cook for an additional minute.

Repeat process and set crêpes aside.

Start oven at 350f degrees.

*If you decide to do a flambé, which I strongly recommend because it adds a ton of flavour, have a match lit up, pour in the brandy or apple liqueur and graze with the flame of your match. Shake your pan around a bit to ensure the flame covers the entire pan mixture, and keep shaking until it goes out.

Season with salt and pepper to taste.

You can now build your crêpes. Begin by laying crêpe on a flat surface and scoop out some of the crêpe filling in the middle. *If adding cheese, add to the filling before rolling the crêpe over. Flip one edge over and roll as tight as possible.

Place on parchment paper lined baking sheet and bake for 10 minutes.

Garnish with fresh herbs and a balsamic drizzle.